Choose your area of interest:
The rising trend for domestic lifts
We all love a little luxury in our house and the latest comforts and electronic gadgets to help us in our busy lives; so it's no surprise that the trend for building high specification luxury homes sees developers and owners including the convenience of a home lift.
It's the ultimate statement, a lifestyle choice and a useful addition to high-end housing. A home with a lift really does stand out from the crowd, propelling a property into a highly desirable 'must have' category. It's not just people-moving lifts that have a role in domestic living. As the trend for townhouses continue, service lifts, also known as dumbwaiters, are having a resurgence in popularity.
The different types of homelifts
Properties come in all shapes and sizes - and so do domestic lifts. In a new dwelling, a lift can be part of your architect's plans and can fit seamlessly as part of the whole project. In an existing home, you'll need to place the lift around your current layout.
There are various types of lifts which can be separated into three categories.
| | |
| --- | --- |
| Types | Description |
| Through floor lifts | These lifts allow up to two people to travel between ground and first floor. |
| Platform lifts | These lifts allow up to four people to travel between several floors. |
| Service lifts | A dumbwaiter that enables food, groceries and other goods to be transported between floors. |
When deciding between the categories you need to decide whether your lift will take people or goods and how many floors the lift will travel, as this helps you to narrow down your search.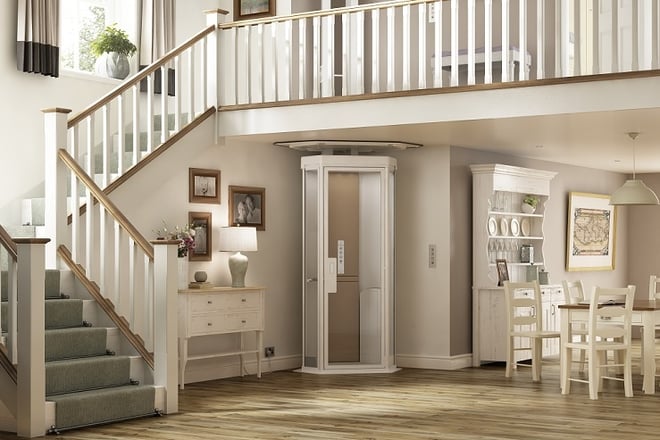 Where only two stops is required, or in properties with slightly more limited space, a simpler through-floor lift can provide a perfect solution. Installed very simply, with no shaft required, these types of lifts have a small footprint for just two standing passengers, or a slightly larger size to fit a wheelchair user. The location of our Compact lift range is quite flexible. When the lift moves up the ceiling void is neatly filled and conversely when the lift descends the floor of the upstairs room is completed again. Therefore, the space the lift occupies is minimal and when it's not in use you really wouldn't know it was there. Discreet and occupying minimum space these products provide quick access over two floors. At Stannah our through the floor Salise and Stratum lifts are a popular choice and a luxurious addition to comfortable living.
For houses with two or more floors and generously proportioned internal space, a domestic platform lift may be the right product. Known to Stannah as our Executive lift range, the Midilift or Piccolo can accommodate four/five people or a wheelchair user, serving the occupants of a large house well into the future. With a wealth of designs; doors by others to match the house interior; automatic single opening doors, different entrance configurations to give flexibility on each landing, and lift finishes to match the home interior - the choice of product and options are endless.
Lifts for groceries, laundry and anything else ....
The trend for the convenience of a lift in luxury homes doesn't end there. The fashionable town house with multiple floors and unconventional layouts may mean bringing the groceries home (or having them delivered) could involve many flights of stairs. That's why high end property developers and city conversions are
building in a small Butler lift to take the strain
.
A Stannah Microlift was 'a necessary innovation' for 11 Spitalfields, a Huguenot House which appeared as a finalist in the 2008 Grand Designs 'Best Restoration Category'. That was how Kevin McCloud, Channels 4's Grand Designs presenter, described the Stannah Microlift installed into the historic townhouse, in the Spitalfields district of London. If you read the Telegraph you may be even more familiar with this beautifully refurbished London home, as it won the 'Best Restoration' in their 2007 Building Awards.
What to consider when choosing a lift
Properties come in all shapes and sizes - and so do domestic lifts. In a new dwelling, a lift can be part of your architect's plans and can fit seamlessly as part of the whole project. In an existing home, you'll need to place the lift around your current layout. There are a few things you will need to consider before your lift is installed:
You will need to get a survey to establish which product is most suitable.

Choosing the style of your home lift, what finishes would you like? From glass shafts, custom walls to bespoke flooring, you can make your lift a sleek and stylish addition to your home – not to mention a life-long practical choice.

Once you've decided on your type of lift and the finishes, builders will need to prepare the home for the lift to be installed.
A domestic lift or service lift will require involvement from a builder, whilst installing a through the floor lift requires minimal builder's work. Whatever your chosen lift, within just a few days the lift is installed and ready for you to use.The possibilities of home lifts are endless, whether a service lift from garage to kitchen to dining room or lift to take you, your family and guests around your home. It simply comes down to the space you have available and what you want to move.
Still unsure? No problem! Get in touch to speak to one of our lift experts.
With nearly 50,000 installations across the UK and over 90,000 units on our service portfolio, Stannah offer a wide range of lift solutions and services to move people and goods in both commercial and domestic applications. Take a look at our product range or simply get in touch.
Know someone else who might enjoy this article? Share it!