How to Care For Your Stairlift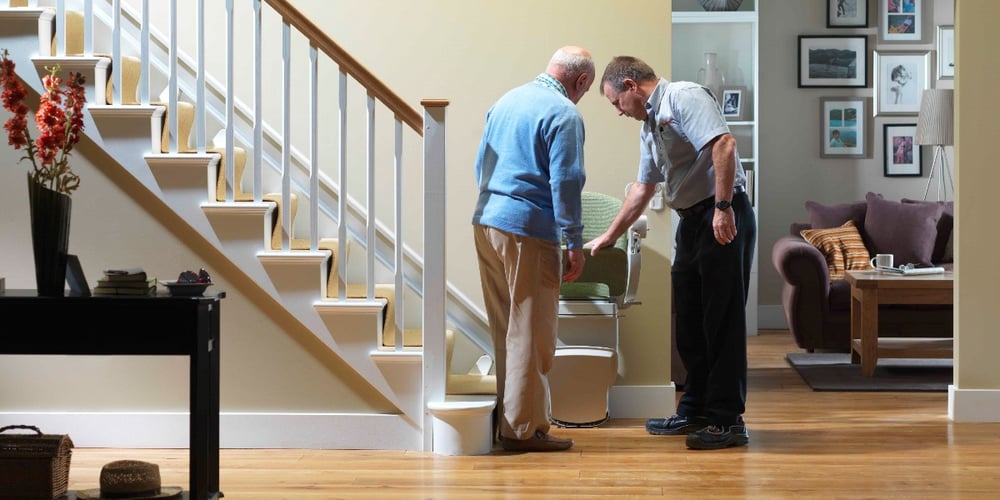 Congratulations on owning a stairlift. We appreciate it might be a new addition to your life so here are some top tips to get you started.
Here are some top tips for how to keep your stairlift in ideal working order.
Always read the manual
Grab a hot drink and take some time to read the manual provided with your stairlift. The manual gives specific maintenance and operating instructions, as well as helpful tips. It's worth keeping your manual handy for trouble-shooting, as simple checks often save callout or repair charges.
Get ready for travel
Don't forget to buckle up for safety. Also, make sure any items of clothing are tucked in. Clothing doesn't often get stuck, but we'd hate for someone to lose their favourite cardie.
Keep the path clear
Check that the stairlift track is clear. Most stairlifts are fitted with safety devices that stop the machine should it encounter an obstruction. However, small items can get stuck, so always attempt to keep the track free from clutter or debris.
Use your stairlift for its intended purposes
Although it's convenient to carry things up and down your stairs with your stairlift, we don't suggest using your stairlift to carry heavy items/equipment as exceeding the weight limit can damage your stairlift.
Don't unplug your stairlift
When in use, your stairlift actually uses up very little energy and unplugging the machine can damage the battery pack, so leave it all connected, and you should get longer out of your battery life.
Clean it regularly
Cleaning your stairlift is helpful from a maintenance point of view. In terms of keeping it in good working order, regular dusting is essential. You can find more on our blog here - The Easy Guide to Stairlift Cleaning.
Know who to call if your stairlift stops working
Whilst you may fix some errors by checking your user manual, you need to know who to call when stuck. If you have problems with your stairlift you can't resolve, make sure you have details of your maintenance provider saved in your phone or somewhere else handy - hopefully, it's Stannah!
Understand your service cover
Service contracts vary greatly, so make sure you know if parts and labour are included and if your service contract includes out of hours or weekends. If you don't have a contract, find a company that covers non-contract callouts and understand what the fees are likely to be. If you are entirely reliant on your stairlift, sometimes saving money by not taking a contract can turn out to be a false economy.
Get it checked by experts
We always recommend a professional annual stairlift service, taking out a service plan gives you regular servicing and an annual check. Stairlift engineers are highly trained and have the skills and knowledge needed to clean and lubricate the machine and provide helpful advice on maintenance and stairlift spares to replace damaged parts.
If in doubt, we can help
Stairlifts are expensive and complicated pieces of machinery that take care of your safety and mobility – do not risk damaging them by performing tasks that you're not sure about. We can help, simply call us and we'll assist in the best way we can.
With nearly 50,000 installations across the UK and over 92,000 units in our service portfolio, we offer a wide range of lift solutions and services to move people and goods. Take a look at our product range or simply get in touch.
Contact Us