Choose your area of interest: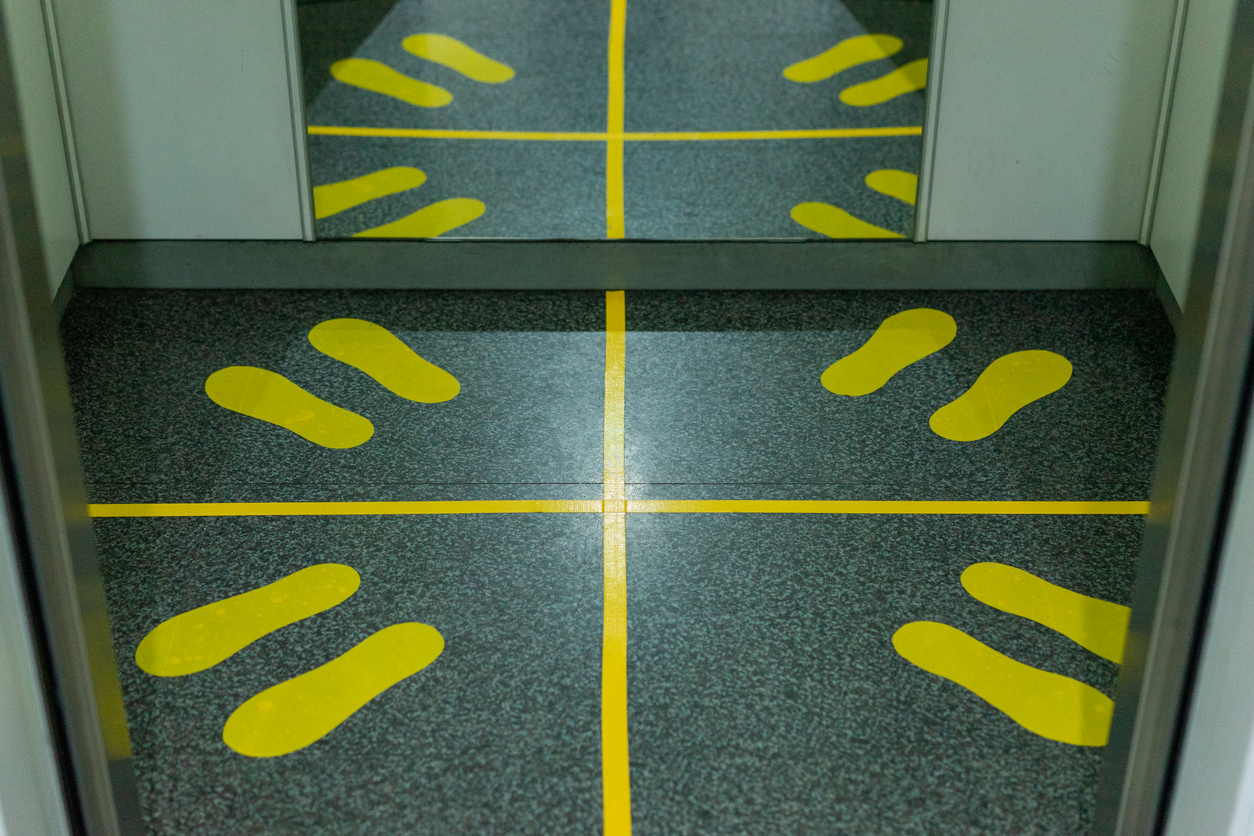 COVID-19: 3 Tips on Lift Use Whilst Social Distancing
/
posted in
Moving People & Goods
,
Moving People
,
Moving Goods
,
Advice For Owners
,
Stairiser
,
Trolleylift
,
Levelmaster
,
Goodsmaster
,
Microlift
,
Lowriser
,
Goodsmaster Plus
,
Passenger Lifts
,
Platform Lifts
,
Service & Goods Lifts
Passenger and platform lifts are enclosed spaces where people mingle. They are also an essential mode of transport for people who struggle climbing stairs, especially in critical settings like hospitals. We've put together some useful tips for lift use whilst social distancing because of the spread of COVID-19.
Passenger and goods lifts are often the most efficient way for the people and goods in these buildings to get where they need to be. While many of us in the UK are currently facing movement restrictions, there are premises that need to stay operational. For example, hospitals where people and supplies must be able to move efficiently within and between floors at all times, but also stations, supermarkets, factories and warehouses.
By following the tips below anyone using a lift during coronavirus (COVID-19) outbreak can do their bit to stay safer during the pandemic.
1. For all lift types avoid direct contact with landing and lift car buttons

To avoid the spread of microbes from landing and lift push buttons, it's best not to touch with your bare fingers, instead use the end of a pen or pencil, a gloved finger, or something else.
If you need to use your bare hands, remember to wash them as soon as you can or use an alcohol-based hand sanitiser similar to push the button.
2. For passenger carrying lifts practice social distancing and use a face mask
If you cannot maintain a two metre distance with other people in the lift then be patient and wait for the next one, or consider taking the stairs instead if you can. Ideally it's best to travel in the lift /elevator cabin on your own or only a few other people (as per building's measures) to limit the spread of infections through respiratory droplets. Therefore, don't forget to wear your face mask/face covering when using a lift!
3. Regular cleaning of touchable lift surfaces
It is always good practice to keep surfaces cleaned regularly. We'd recommend boosting cleaning efforts so that buttons, handrails, elevator car walls, doors and other surfaces, are disinfected regularly. You can find out more on lift cleaning on our blog.
Summary
We hope the blog on lift use was helpful. Why not take a look at Lifts Your Questions Answered - Covid Edition which gives helpful advice for building owners and facilities managers on lift use and maintenance during lockdown.We wish you all the best during this unsettled period and trust by coming together we can quickly limit the impact of this virus.
You can find out more about our support for our customers during the nationwide lockdown for coronavirus here.
Have a question? No problem! Get in touch to speak to one of our lift experts.

---
Why are we the lift experts?
Stannah have been supplying lifts since 1867 and as a result we have considerable experience of the choices and challenges architects, building owners and specifiers face. We are members of the Lift & Escalator Industry Association (LEIA), and have been for many years, supporting various committees in developing industry regulations and standards. Our experience means we are an authoritative voice in the lift industry. www.stannahlifts.co.uk
Know someone else who might enjoy this article? Share it!