Everything You Need to Know About Stairlift Batteries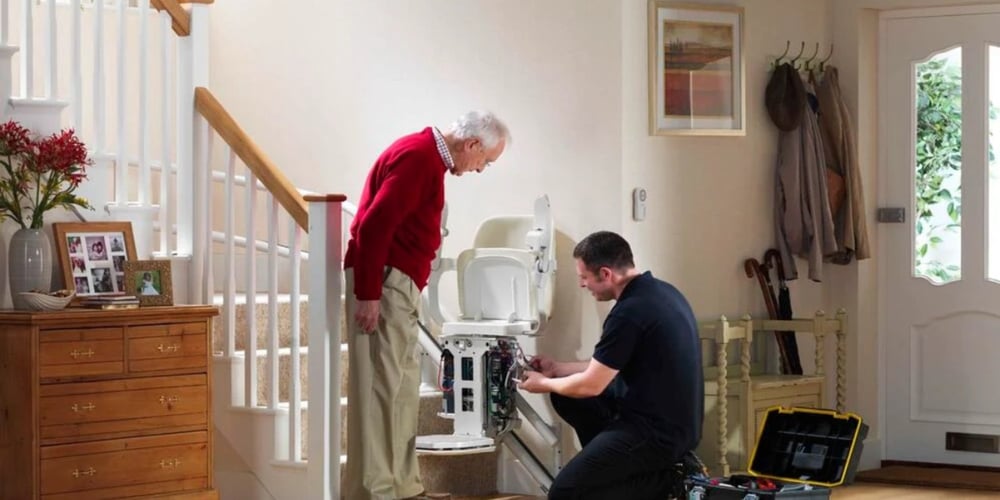 Discover everything you need to know about stairlift batteries. How long do they last? What's involved in a stairlift battery replacement? Find out here.
Read on, and if your questions aren't answered, please feel free to get in touch, and we'll try to assist in whatever way we can.
Q: Are stairlifts battery powered?
Yes. Modern stairlifts are battery powered and recharged when sitting at their charging points. Some older models are mains powered and have no batteries.
During a power cut, the stairlift batteries will continue to work on newer models, getting you safely to your destination (read more here). Fully charged batteries are good for at least 15 to 20 rides up and down your stairs, though if you have a powered swivel, you will need to use the manual swivel lever.
Q: How to charge stairlift battery?
For most brands, stairlift batteries don't need special checks but make sure your stairlift is never left too long off its charging point. This means "parking" your stairlift after every ride. More recent stairlifts have an alarm or light to let you know, but if you're uncertain, please ask your service engineer during a service visit to demonstrate.
When not in use, your stairlift should never be left off its charge point. Your stairlift should also be left in the "On" position under normal circumstances.
Q: How do I know the batteries are okay?
During a service visit, the stairlift engineer will check the current battery chargers and voltage, using battery testers to measure if the batteries are still charging properly. These tests will indicate if a replacement is needed or if the current stairlift batteries are still okay.
Q: Why is my stairlift going slow?
If your batteries are running low, there'll be no buzzing alarm system or flashing lights. Instead, you'll see one or more of the following:
Your stairlift will go slower than its usual pace or gradually slow in speed as

the upward journey progresses

Your stairlift will stop after a short distance and then continue

The battery won't charge at its usual charging point (this means the stairlift battery has been completely drained)
At any of these signs, you'll need to replace the batteries. At this point please contact your local service branch.
Q: How long do stairlift batteries last?
Stairlift batteries generally last around 2 to 5 years; of course, this depends on the usage. For example, if the stairlift is often left off its charge point, it reduces battery life.
Q: How do you change a stairlift battery?
You should never replace a stairlift battery yourself; it's tricky if you aren't a fully trained qualified stairlift engineer. Additionally, accessing the batteries will require covers to be removed and correctly fitted, then the safety features on the stairlift should all be thoroughly checked to ensure they work. An engineer will also identify whether other elements require inspection or could be causing any issue, for example, the charger.
If you attempt it, you'll also likely void any warranty or servicing cover should the stairlift fail. You wouldn't let an untrained gas fitter check your boiler or a non-mechanic fix your car. The principle is the same.
A Stannah service engineer can take care of the replacement for you, ensuring peace of mind and complete safety for the stairlift user(s). And even better, they keep fully approved battery stock in their vans to enable you to get back up and running quickly and ensure safe and correct disposal of a large voltage battery.
Q: How much is a stairlift battery?
Batteries and fitting are typically covered on a premium service contract. But expect a charge on lesser contracts. Stannah also safely and correctly dispose of any old batteries - meaning you don't have to worry about it.
Don't be tempted by cheap replacements. All the batteries Stannah keep as van stock are manufacturer-approved, fully fire retardant, and safety marked and come with a 2 yr warranty.
Choosing cheaper non-manufacturer approved batteries can damage your stairlift, affect the performance of the stairlift or may not be fire retardant and risk giving off dangerous fumes in the event of a fire.
When it comes to Stannah stairlift replacement batteries, it's best to contact your local Stannah branch. This goes for all your stairlift replacement batteries queries. Who can help you better than a stairlift manufacturer who's been in the lifting business for more than 150 years?
Regular stairlift servicing gives you peace of mind
Any machine with moving parts can become damaged from repeated use, dust, dirt, or general wear and tear. As stairlifts provide such an important function, bringing independence and freedom to their users, regular servicing is essential to avoid breakdowns, keep your lift running reliably – and doing so safely for the stairlift driver.
Stannah can service and maintain any make or model of stairlift - not just our own! To discuss a stairlift service contract or repair, get in touch with Stannah.
How can Stannah help me?
Stannah Lift Services can help you meet your obligations as a stairlift owner by providing repairs, maintenance and supporting lift services on all types of stairlifts. We cover any manufacturer, type and model of lift equipment, not just Stannah products.
Whilst you're here, why not check out our tailored annual service contracts, extended warranties, repair packages and supporting lift services to ensure reliable, fault-free operation.
With nearly 50,000 installations across the UK and over 92,000 units in our service portfolio, we offer a wide range of lift solutions and services to move people and goods. Take a look at our product range or simply get in touch.
Contact Us