What Is a Food Lift?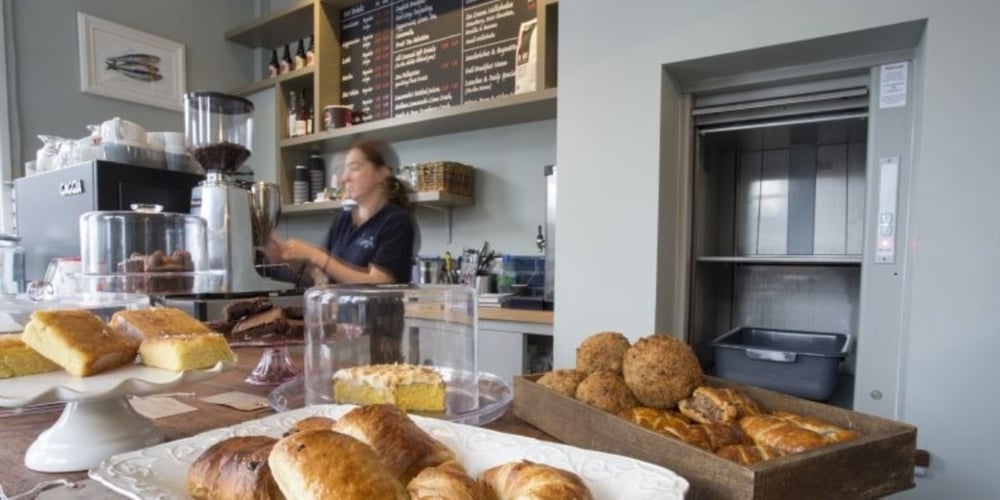 These hard workers go under many names, including dumbwaiters, service lifts, catering lifts, kitchen lifts, back-of-house lifts and restaurant lifts. Speeding up service and keeping customers happy...
Much like an extra pair of hands, these lifts make life easier for businesses and people who need to move food, kitchenalia, documents, books, laundry, small barrels and boxes, and, yes, even rubbish, between different floor levels. If you need to move food and/or small items between 2—12 stops, then you need a food lift.
A multitude of applications
If you're in the catering industry—hotels, pubs, restaurants, cafes, bars, commercial kitchens, etc.— catering lifts speed up service and ensure that you keep your customers happy.

Two extra pairs of hands in a heritage hotel. Full story here.
Installations are also on the rise in educational establishments, libraries, hospitals, stores, breweries, offices, dentist and doctor surgeries, rest homes and private homes—anywhere where smaller goods need to be moved between floors. They are small lifts for goods, whatever these may be, on land or at sea.
Fit for purpose—in every way
Dumbwaiters come in different capacities, dimensions and finishes to suit every application. Better companies offer non-standard sizes to cater for unique needs/locations.

From basement to highlife—two food double-acts fuel landmark casino. Full story here.
Installed quickly and easily in just a few days, food lifts are ideal for new buildings and existing premises, and can be discreetly installed to English Heritage standards in listed buildings. Like this discreet service in a listed 19th-century private home. Full story here.
Safety first
Food lifts must meet all required safety standards. This offers double protection: of staff, by removing the risks involved in tramping goods up and down stairs, and of owners, from possible litigation.

Modern butlers in new-build private homes. Full story here.
Always on the go
Food lifts are engineered to give years of reliable service. Their streamlined finish makes them quick and easy to clean and, in food-moving applications, a heated shelf keeps food warm from kitchen to servery/table. For added reassurance, source your lift from a company that offers an inhouse maintenance service as part of your purchase contract.

Helping to pamper punters in a 21st-century spa. Full story here.
Why choose Stannah?
When choosing your food lift supplier, it pays to opt for a company with a time-served, established industry presence, such as Stannah.
We've supplied and installed over 20,000 Microlifts so we can guarantee our customers a reliable product, supported by regular service visits from expert local engineers.
Our food lifts are built to last, with some early models still giving good service after 40+ years on .... Why not take a look at our service and goods lift range?
Have you got further questions on food lifts?
Contact us and we will be happy to answer all your questions. If it would help, we can organise a free site survey to discuss your individual requirements.
For further info, check out these links:
With nearly 50,000 installations across the UK and over 92,000 units in our service portfolio, we offer a wide range of lift solutions and services to move people and goods. Take a look at our product range or simply get in touch.
Contact Us