What is a dumbwaiter?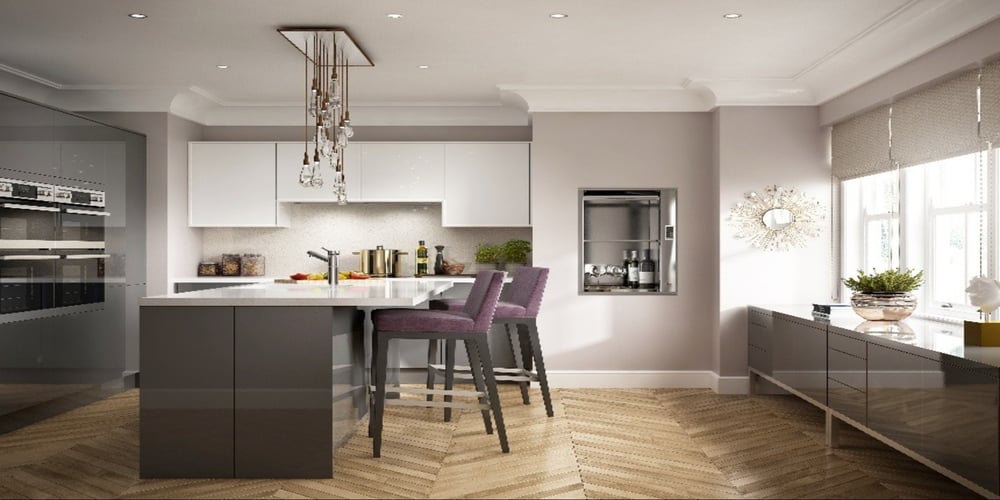 However you write it, 'dumb waiter' or 'dumbwaiter', the term's origins are puzzling. The name of this small service lift and the history of how it came into being are interesting topics.
Last updated: 12/10/2022
What is a dumbwaiter?
For those of you unaware of dumb waiters, let us explain ... it's a small lift (most often waist-height) used to bring food up to a restaurant from kitchens below and to take dirty dishes back down from the dining room – a hidden and essential device in almost every mansion, café and restaurant. These hard-wearing little service lifts are designed to carry goods, not people, between floors.
The history of the dumbwaiter
This lifting device has been used for thousands of years. The first recorded use dates back to around 200BC, during the age of the Romans. An architect described installing a dumbwaiter to allow the movement of goods.
Why is it called a dumbwaiter?
The term 'dumbwaiter' is because the lift was first used in large houses with their kitchens and household staff in the basements or the servant's quarters. These servants would use the lift to take food and dishes upstairs to the dining room and back down again as the go-between from the kitchen to the restaurant, allowing noise and cooking odour to be isolated from the patrons. The term's origins are simply that this lift was a way of having your own silent waiter, not seen and not heard.
In 1957, Harold Pinter made the term infamous by writing the single-act play entitled 'The Dumb Waiter', described as "Small but perfectly formed"[1]. Not surprisingly, the action all takes place in a dingy basement kitchen. In the back of the room is a dumbwaiter who delivers occasional mysterious food orders. The characters and the invisible food senders communicate via the dumbwaiter's "speaking tube" unravels a baffling story.[2]
Over the years, the mini-lift may have been silent. Still, it didn't remain dumb, spreading its commercial uses to carrying correspondence, medication within a pharmacy or hospital, a keg of beer from the cool basement to the bar and even the special "bullion lift" in The Bank Of England designed to carry coins and gold bars.
How does a dumbwaiter work?
Early versions were simple human-powered devices, which looped a rope around a pulley or rafter controlled manually. Modern dumb waiters are powered electrically - so no hand-pulling is required!
How much does a dumbwaiter cost?
Typically Microlifts cost between £6,000 - £7,500 for supply and installation, depending on size and configuration. You'll also need to factor in building work depending on its location.
Can a dumbwaiter carry people?
No. Absolutely not. These little lifts are designed to carry goods only.
Its popularity continues...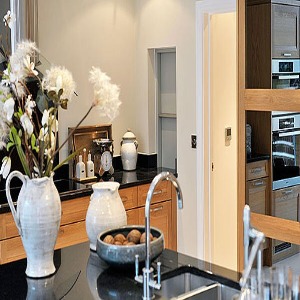 In the 21st Century, the service lift is still alive and well and in most modern, chic bars, restaurants, clubs and pubs – still acting as a silent and unseen 'waiter'. It's become a reliable workhorse and essential to catering businesses arranged on more than one floor.
20th-century product changes mean the introduction of structures, heated cabins, state-of-the-art intercoms and safety locks, as well as the option to have a lift stop off in between or skip floors on its journey.
Increasingly developers and homeowners have started to view them as domestic lifts - the 'must have' for kitchens.
Our Microlifts are installed in homes of all sizes, with some owned by Royals and celebrities.
Today's Stannah Microlifts are electrically driven, highly controlled lifts supplied in their own structure and have attractive finishes to make this little star into an interior design feature.
The future
Where next for the trusty old service lift, you may ask?
With townhouses becoming a trend - architects and builders recognise the need to move items between floors without carrying heavy or precarious items up multiple flights of stairs. House developers seeking buyer incentives to their homes will add a Microlift.
At Stannah, we've installed more than 22,000 Microlifts in the last 40 years, so there's nothing we don't know about this little powerhouse! If you have any questions about the Microlift or are considering purchasing one, feel free to contact us, and we'll be happy to help.
[1] Derbyshire, Harry. "Harold Pinter's The Dumb Waiter (review)", Modern Drama, vol 53, no 2 (2010), pp266-268.

[2] Derbyshire, Harry. "Harold Pinter's The Dumb Waiter (review)", Modern Drama, vol 53, no 2 (2010), pp266-268.
With over 50,000 installations across the UK and nearly 100,000 units in our service portfolio, we offer a wide range of lift solutions and services to move people and goods. Take a look at our product range or simply get in touch.
Contact Us