How the PSTN switch over will affect your lift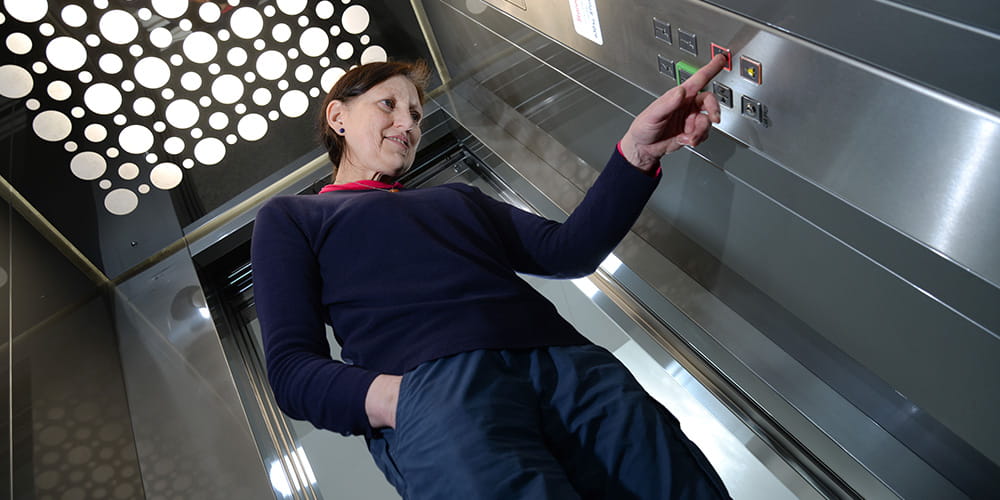 The Public Switched Telephone Network (PSTN) is a system of analogue circuit-switched telephone lines that still criss-cross the globe. First developed in the late 1800s, this network of copper wires connected to telephone exchanges enabled people to communicate in real time over vast distances. PSTN is known by a variety of other names, such as landlines, Plain Old Telephone Service (POTS), or fixed-line telephones. Even though PSTN is still widely used as a basic form of communication, it has fallen into decline in favour of newer technologies.
What is the PSTN switch off?
The corporation that maintains the telephone infrastructure keeping the national broadband and telephone network connected in the United Kingdom, Openreach, announced in November 2017 that traditional copper-based telephony lines, which include PSTN lines, would be phased out and eventually deactivated by the end of December 2025.
In addition to PSTN lines, other affected telephony services include Integrated Services Digital Network (IDSN) lines and Wholesale Line Rental (WLR) lines.
New analogue telephone lines have not been installed in the UK for some years and in September 2023 BT stopped selling traditional phone lines in all exchange areas. By the end of 2025, analogue lines will cease to be supported entirely.
The PSTN switch over will help Openreach prioritise the development of optical fibre networks for high-speed broadband in the United Kingdom and meet the government target for at least 85% of UK premises to have access to gigabit-speed broadband by 2025.
What services will be affected?
PSTN, WLR and ISDN based products such as home landlines and office phone systems are commonly mentioned by providers when discussing the PSTN switch over. Voice-based telephony services will be largely replaced by Voice over Internet Protocol (VoIP) technology and SIP trunking for PBX telephone systems. However, a whole host of other essential technological devices will be impacted aside from voice services.
This includes anything that relies on a traditional analogue phone line to operate, including emergency alarms in lifts, panic alarms, burglar alarms, information displays, traffic lights, some door and gate entry systems, CCTV systems and point-of-sale payment terminals. If they are not upgraded to digital connectivity within the next few years, they will stop working when PSTN lines go out of service.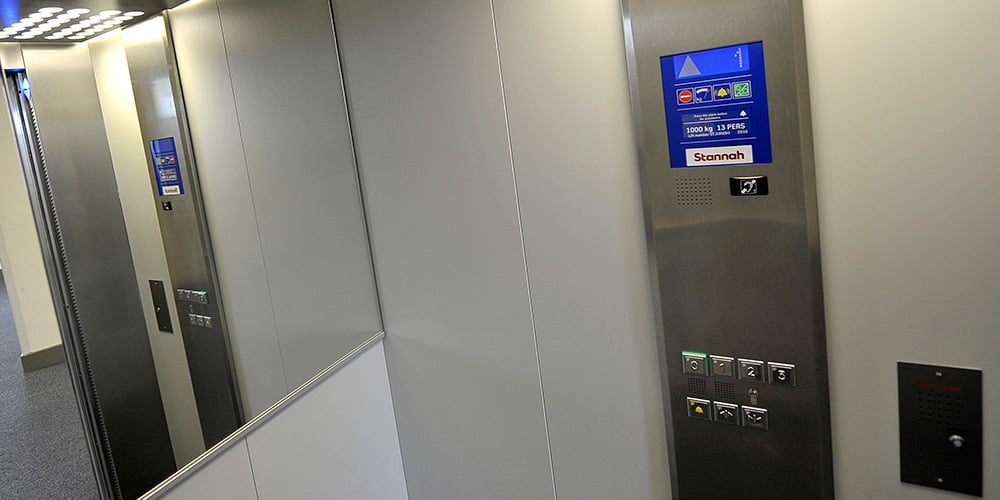 12 months before your analogue phone lines are scheduled to be switched off, you will receive a notification from your telecommunications service provider notifying you of this change. However, it is advisable to start looking for an appropriate solution sooner rather than later to avoid a rushed decision-making process.
How it will affect your lift
As part of the Remote Alarm on Passenger and Goods Passenger Lifts Standards EN 81-28 (2003), all passenger lifts installed since 1999 in the UK are required to contain an emergency alarm. Once the emergency button is pushed, an auto-dialler provides two-way communication between the passengers and a rescue service, which is usually run by the lift service provider. The auto-dialler hardware is connected to a phone line with an Openreach socket.
Many auto-diallers use both an analogue dial tone and dual-tone multi-frequency (DTMF) signals to operate. Without a PSTN line, auto-diallers that have been converted to VOIP may fail to dial the emergency service due to the lack of dial tone. Additionally, the auto-diallers that draw power from the telephone line will simply not work.
Most telephone communications providers now offer analogue converter sockets in their internet routers to provide digital VOIP services. However, this will not be a one-size-fits-all solution for a huge swathe of non-telephony devices, especially those which require failsafe operation even in the event of a power outage, such as emergency alarms in lifts. In order for the VOIP conversion to work seamlessly, the router carrying the signal through the line will require an uninterrupted power supply.
The transition of your lift's emergency alarm from analogue phone lines to other digital alternatives must be considered and managed carefully ahead of time to keep your lift compliant and your passengers safe.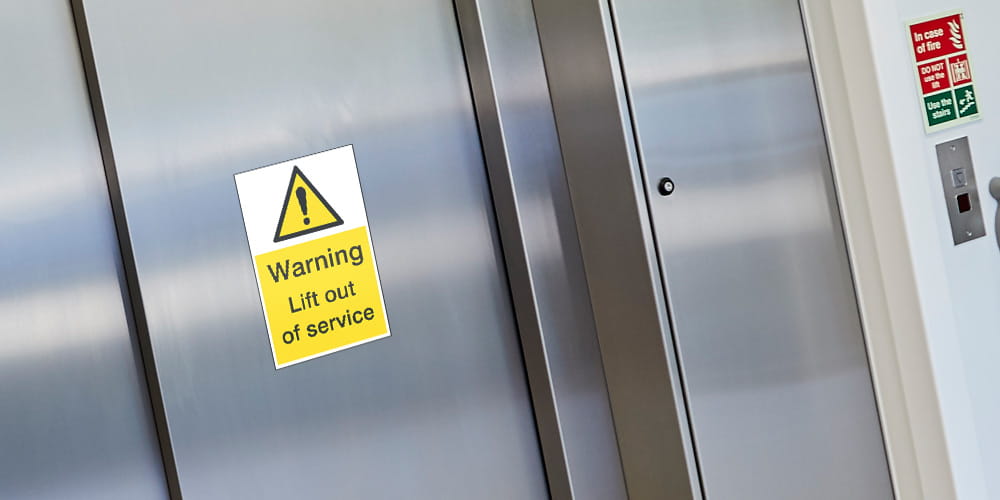 If an emergency alarm is found to be non-functional during a 3-day line test under EN 81-28 regulations it will be declared non-compliant and switched off. All lift owners and facility managers will therefore need to act soon before PSTN line services are withdrawn.
Preventing lift switch off with a managed SIM solution
Thankfully, VOIP is not the only solution to keep the emergency line in your lift operational 24 hours a day, 7 days a week. GSM (otherwise known as mobile or cellular) telephony provides a reliable and cost-effective digital solution for most existing lifts.
Without the need for physical phone lines and installations, a GSM module can be easily installed and battery-backed to provide a failsafe in the event of a power outage. You can also keep your signal strength strong with a roaming SIM that connects freely to the best available network.
GSM solutions for emergency alarms in lifts can be monitored remotely and set to send alert notifications when anything is not working as it should, such as SIM data, signal or battery backup status. For example, the backup battery should provide power for a minimum of one hour and send an alert if the charge drops below a certain level.
It is vital to consider the benefits of a professional and trusted managed SIM service, to ensure hassle-free and cost-effective virtual communication for your lift. Prepaid SIMs can run out of credit, expire or just get turned off mistakenly, and these situations can exist undiscovered until a real emergency happens, potentially leaving your passengers stranded or in danger.
There may be an upgrade required to enable the move from PSTN to GSM, which may include the purchase of GSM hardware, and possibly a compatible auto-dialler. However, the system is incredibly cost-effective. Even with a managed SIM service, the cost of maintaining a GSM solution is substantially lower than the long-term costs associated with managing and maintaining a commercial phone line for your lift. Over time these savings will accumulate and pay back any initial investment in new hardware and installation.
Stannah's new portfolio of digital services includes a managed SIM service, which covers the cost of calls, line rentals and 24/7 connectivity monitoring, offering peace of mind to lift owners, improved product safety for users and reduced risk for you. The Stannah Managed SIM service means we assume management of the phone line for your lift, giving you absolute peace of mind.
With over 50,000 installations across the UK and nearly 100,000 units in our service portfolio, we offer a wide range of lift solutions and services to move people and goods. Take a look at our product range or simply get in touch.
Contact Us