Part M: Volume 2 & Passenger Lifts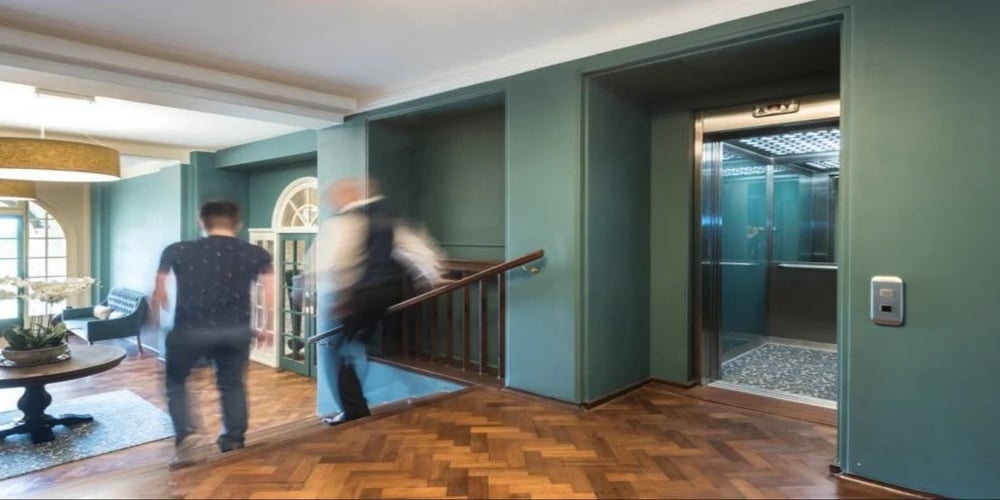 Part M Volume 2 provides practical guidance for complying with building regulation requirements for buildings other than dwellings. This post is the third in the series of our Part M: Volume 2 building regulations blogs and covers passenger lift requirements within Part M in detail.
What is Part M: Volume 2?
These building regulations refer to the accessibility and use of buildings, Approved Document M (2015 edition) Volume 2 for Buildings other than dwellings (all other building types) and gives direction on enabling a public access building to conform to the Equality Act (formerly DDA).
Section three of Part M Volume 2 sets the objective for the horizontal and vertical circulation of people in buildings, first covering the general lifting provisions and design requirements before going into specific requirements for each lift type.
We have outlined the specific passenger lift requirements below and some additional items worth considering as part of your Part M lifts.
Passenger lifts in a building
Regardless of the lift type, there are specific design considerations when placing a lifting device in any building to comply with the Part M building requirements.
Generally speaking, passenger lifts tend to be fitted in new builds where it's easier to build a lift shaft and pit. Passenger lifts are also the ideal solution for buildings where lifts will be frequently used, either due to the size of the building or where the lift will be the primary method of travelling between floors.
Passenger lift design considerations
Although there are general design considerations, there are also some specific passenger lift design considerations. Below are the key questions to help ensure all the requirements are met:
1. Does your lift comply with the relevant standards?
Any UK passenger lift needs to comply with the Lift Regulations 1997, the Lifting Operations and Lifting Equipment Regulations (LOLER), the Provision and Use of Work Equipment Regulations (PUWER) and the Management of Health and Safety at Work Regulations (Section 3.25 of Part M, Vol.2). Passenger lifts also need to comply with the relevant EN81 series of standards, particularly BS EN81-70: 2003 Safety rules for the construction and installation of lifts. (Click on this link to see a glossary of lift standards).
The specific requirements and standards that apply to any passenger lift will obviously vary considerably depending on the lift application and the building type.
2. Do you have a method to contact someone outside the lift should it stop?
In the unlikely situation of trapped passengers, there is a responsibility to ensure the user(s) is/can alert others and communicate with them. Therefore a suitable emergency communication system must be fitted in the lift. This continues to be the responsibility of the lift owner throughout the lifetime of the lift.
3. What size lift car and configuration do you require?
The number of people you need to fit in a passenger lift and how frequently it will be used, as well as any building restrictions, will all help to determine which car size will fit your requirements. As Part M states:
3.29 Lift sizes should be chosen to suit the anticipated density of use of the building and the needs of disabled people.
If you are installing a passenger lift/a series of passenger lifts, then Part M recommended the following sizes:
| | | | | |
| --- | --- | --- | --- | --- |
| | No of persons | Weight | Width | Depth |
| Minimum size | 8 person | 630kg | 1100mm | 1400mm |
| Larger size* | 17 person | 1275kg | 1200mm | 2300mm |
* Part M recommends a larger lift size of 2000mm wide by 1400mm deep to accommodate any wheelchair and other passengers, enabling a wheelchair/frame user to turn through 180 degrees. This is comparable to a 17 person lift.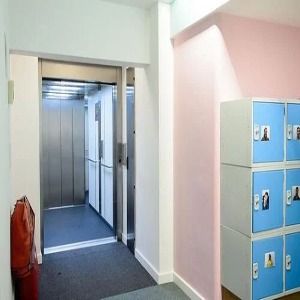 Of course, passenger lifts come in a wide variety of sizes, ranging from 6 person through to 33 person. Choosing the best size lift depends on the application, building space and traffic flow.
Ideally, the regulations also recommend (in buildings where space and planning allows) considering the fitting of opposing doors (used for access between two levels only) to enable a through lift car arrangement (shown right). As referred to in part 3.33, they allow a wheelchair user to exit the lift without reversing out.
4. Does the area in front of and in the lift enable free and easy movement (with particular consideration for wheelchair users)?
Detailed guidance around the position and functionality of lift doors and manoeuvring space can be found in the regulations, but the general rules state that:
clear and sufficient space must always be left in front of lifts;
landing buttons and car controls should be easy to reach;
Landing call buttons must be easily accessible for all and located between 900mm and 1100mm from the landing floor and at least 500mm from any return wall.
Timing is another issue. Some lift users, such as the elderly or anyone with a physical disability, may require longer to enter and exit the lift. Therefore passenger lift doors are fitted with timing devices and sensors to allow adequate time and space to enter and exit a lift.
5. Are all users able to use the lift independently, without concern?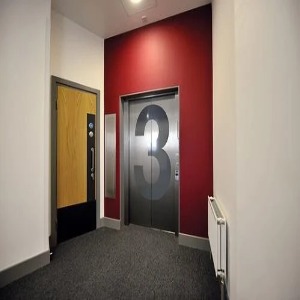 The needs of lift users with an audio or visual impairment must be taken into consideration. Therefore landing doors should be distinguishable visually from the adjoining walls, and any glass areas are easily identifiable by people with impaired vision.
It's important to consider whether those with a visual impairment can operate the lift. Therefore, within the lift, car controls should be raised and visually contrasted with adequate lighting in place and a floor with frictional qualities similar to, or higher than, the landing floor (which cannot be a dark colour). Whilst the finishes/colours within the lift can affect users with a visual impairment, it can also create confusion for people with dementia, as can specific colours, patterns and textures (find out more in our blog about specifying with dementia in mind). If there are particular requirements for finishes, it is always worth discussing this with your chosen lift company. A handrail is helpful for those requiring reassurance/assistance whilst travelling in the lift.
To ensure fair access for the needs of wheelchair users must also be addressed. For example, if a single entry lift, a wheelchair user will need to see the space behind them, enabling them to turn around within the lift car, so mirrors at the rear of the lift facilitate this.
Summary
Once you know which product you require, it's always worth stating to your chosen lift supplier that you need a Part M compliant lift or 'Part M lift', and they should be able to assist you with the process.
A reputable lift provider will be able to assist you in your decision making. However, it's certainly worth being well-informed about these design considerations yourself. Here at Stannah, we offer a broad range of passenger lift (and platform lift) products to enable easy vertical circulation. We work with you to solve your access problem and comply with building regulations.
Further detailed guidance on this topic for other types of lift as well as guidance on the general requirements is also available:
Part M: General overview
Part M: General requirements for Lifting devices
Part M and Platform lifts
Part M and Platform stairlifts
Of course, compliance to Part M is just one of the many factors to evaluate when choosing the right type of lift, or lifts, for your building project. We have a helpful blog outlining the three key considerations when selecting a lift.
With over 50,000 installations across the UK and nearly 100,000 units in our service portfolio, we offer a wide range of lift solutions and services to move people and goods. Take a look at our product range or simply get in touch.
Contact Us