What DDA compliant and reasonable adjustments mean in the Equality Act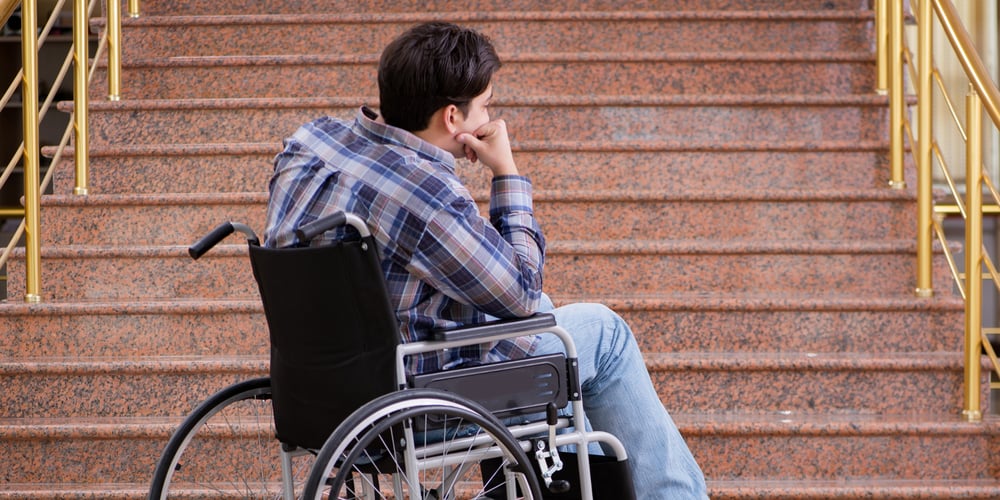 The Disability Discrimination Act (DDA), was designed to make public spaces easier for disabled people to access. Businesses of all types had to make changes to meet its requirements, and that's when DDA access lifts were born.
What is the Disability Discrimination Act?
The Disability Discrimination Act (DDA) was passed into law in November 1995 - seeking to establish an inclusive society, where disabled people and those with long-term health conditions could actively participate as equals.
Before the DDA was introduced, a lack of access to many public services, transport, leisure and education meant that many disabled people were excluded from society. The DDA granted an estimated 10 million disabled people in Britain with newfound rights to fair treatment.

When the DDA came into effect, building owners and service providers were required to make reasonable 'adequate' provisions to ensure independent and equal access to all persons in all non-domestic environments. However, this was open to interpretation and argument over what 'adequate' meant.
Incorporating the DDA into the Equality Act
To clarify and strengthen the DDA compliance meaning, the Disability Discrimination Act was incorporated into reasonable adjustments of the Equality Act 2010. A more modern, single legal framework streamlined to more effectively ensure no one is disadvantaged or discriminated against.
Meaning that any new building or alterations to an existing building, to satisfy obligations under the Equality Act, must comply (in England & Wales) with The Building Regulations 2010. In particular, the Approved Document part 'M' (England & Wales) or Section 4.2 of The Technical Handbook (Scotland).
What is DDA compliance?
To be compliant with the DDA and The Equality Act 2010 requires the facilities or services of a building to be accessed easily by those with disabilities. If it's difficult or impossible for a disabled person to use the facilities or services of a building, reasonable steps must be taken to remove this difficulty or provide a suitable alternative.
Failure to make such adjustments could result in a discrimination claim, with potentially severe consequences for the business. Installing a DDA compliant lift is just one example of the many disability and Equality Act 'reasonable adjustments'.
An access statement includes information on the accessibility of a venue's facilities and services, enables those with access needs to know they can visit, shop or eat in a building - helping to promote your business to potential customers. There is guidance for building owners on writing your access statement available from Visit Britain.
What is a DDA-compliant lift?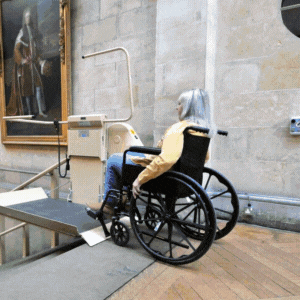 The term 'DDA compliant lift' refers to a lift that meets the requirements set out in the Disability Discrimination Act (DDA) 1995. Despite the DDA being replaced by the Equality Act 2010, these lifts are still widely referred to as "DDA lifts" by users and businesses alike. DDA compliant lifts are a great option for improving access to buildings for those with mobility issues and ensuring your building complies with the Equality Act, protecting both building owners and users.

The impact of the Equality Act on disability
The Equality Act 2010 has been a game-changer, improving DDA access requirements to employment, education, healthcare, and other services. It's also helped to raise awareness of disability discrimination and the importance of inclusion, changing attitudes and creating a more diverse and inclusive society. While there's still work to be done, the DDA, and this Act, have been instrumental in creating a more equal and fairer society.
Adding disabled access to buildings in line with the Equality Act 2010 not only enables disabled people to use your services, but ramps and lifts benefit other customers with small children or staff moving heavy loads too. With the purple pound valued at £274 billion (combined income of the disabled in the UK, 2020) put simply, can your venue afford to miss out?
Choosing a DDA lift
Since the DDA and Equality Act were introduced, we've proudly installed over 10,000 platform lifts, along with thousands of passenger lifts, in businesses, public buildings and homes across the UK.

In the past three decades, we've witnessed changes to traditional DDA lifts, such as wheelchair stairlifts travelling on an incline against steps, cabin platform lifts with automatic buttons and a cabin, and the introduction of low pit lifts.

Stannah has worked across the UK with thousands of shops, restaurants, museums and visitor centres to enable access for all, including placing a range of platform lifts in SS Great Britain in Bristol, Bug World in Liverpool and the Olympic Park in London, to name three, with thousands more locations across the UK that we could add to the list.

It's possible to install one or more lifts in most buildings that have two or more floors or to provide a ramp or step lift where there is a short flight of stairs. If you have any concerns about the suitability of your building for a lift, we can send a trained engineer out to conduct a site visit free of charge.

So if you are considering a DDA lift to help provide access for all in your building, we know that with our broad range, we can help you choose the right solution for your needs.


With over 50,000 installations across the UK and nearly 100,000 units in our service portfolio, we offer a wide range of lift solutions and services to move people and goods. Take a look at our product range or simply get in touch.
Contact Us