Part M: Building Regs & Lifts

The
Building Regulations, Approved Document M (Part M) gives direction on lifts in all types of buildings, stating that reasonable provision must be made for people to access and use the building's facilities.
Whilst Part B gives guidance on fire-rating lifts or the area surrounding them and further detail on firefighting and evacuation passenger lifts. We've given a helpful outline of the building regulations guidance surrounding lifts below.
What is Part M?
Part M of the building regulations deals with the accessibility and use of buildings. In the latest Approved Document M (2015 edition), there are volumes of Volume 1 for dwellings and Volume 2 for Buildings other than dwellings (all other building types). Volume 2 gives direction on enabling a public access building to conform to the Equality Act (formerly DDA), and Section 3 sets the objective for the horizontal and vertical circulation of people in buildings as:
"For all people to travel vertically and horizontally within buildings conveniently and without discomfort to make use of all relevant facilities. This objective relates in the main, but not exclusively, to the provision of sufficient space for wheelchair manoeuvre and design features that make it possible for people to travel independently within buildings."
Vertical circulation within the building
To help achieve this objective, a series of design considerations for the vertical circulation of the building is covered, including the most suitable type of lift and specific considerations and requirements for each lift type.
3.21 For all buildings, a passenger lift is the most suitable form of access for people moving from one storey to another.
3.22 For existing buildings, and in exceptional circumstances for new developments with particular constraints (e.g. a listed building or an infill site in a historic town centre), where a passenger lift cannot be accommodated, a vertical lifting platform (enclosed platform lift), although not equivalent to a passenger lift, may be considered as an alternative option to provide access for persons with impaired mobility.
3.23 In exceptional circumstances in an existing building, a wheelchair platform stairlift (open platform) may be considered, provided its installation does not conflict with requirements for means of escape.
As we can see, Part M states that the preferred solution to enable disabled access is a passenger lift, particularly for new developments, and BS8300 recommends at least one or more types of lift. But it also recognises that it may not always be possible for a building to accommodate either a new or existing development; due to site constraints, it cannot be accommodated. In these instances, to achieve a Part M compliant lift, a lifting platform (platform lift) or as a last resort, a wheelchair platform stairlift will be considered.
General requirements for lifts
In selecting the most suitable lifting device, it's important to ensure it fits its purpose, considering the relevant lift and Health & Safety Regulations. If your building needs to comply with Part M, then a recommended minimum footprint size is as follows: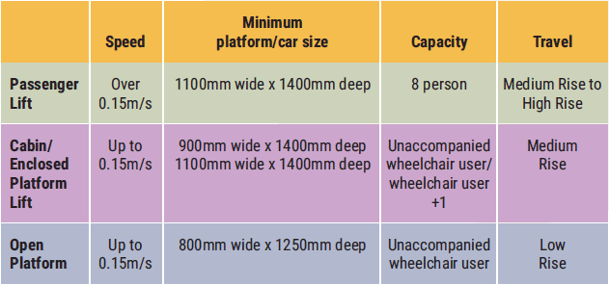 Once you know what product you require, it is always worth stating to your chosen lift supplier that you require a Part M compliant or 'Part M lift'.
For each lift type, further design considerations and provisions are outlined in the Approved Document M - Volume 2 and information on the requirements of lifting devices in general. We've covered this additional detail in our other blog posts on Part M and lifts;
How can we help?
Of course, compliance to Part M is just one of the many factors to evaluate when choosing the right type of lift, or lifts, for your building project. Building regulations: key guidance for lifts gives a useful overview of the general regulations, standards, and guidance related to lifts.
With so many lift types to choose from, selecting the right lift type can be a confusing business. So we've got a helpful blog outlining the three key considerations when choosing a lift.
A reputable lift provider will be able to assist you in your decision making. However, it's certainly worth being well-informed about these design considerations yourself. Here at Stannah, we offer a broad range of products to enable easy vertical circulation, working with you to solve your access problem and comply with building regulations.
To see key product requirements, building considerations and typical installation times take a look at our handy infographic.
With over 50,000 installations across the UK and nearly 100,000 units in our service portfolio, we offer a wide range of lift solutions and services to move people and goods. Take a look at our product range or simply get in touch.
Contact Us