Part M: Volume 2 & Wheelchair Platform Stairlifts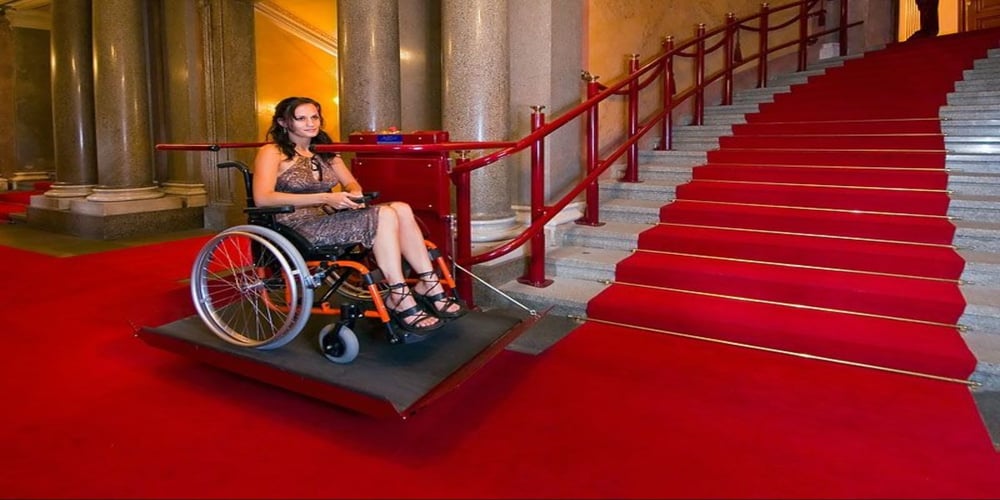 This post is the fifth and final in the series of our Part M: Volume 2 building regulations blogs and covers the detailed requirements for wheelchair platform stairlifts.
What is Part M: Volume 2?
These building regulations refer to the accessibility and use of buildings, Approved Document M (2015 edition) Volume 2 for Buildings other than dwellings (all other building types) and give direction on enabling a public access building to conform to the Equality Act (formerly DDA).
Section three within Part M, vol.2 sets the objective for the horizontal and vertical circulation of people in buildings, first covering the general lifting provisions and design requirements before going into specific requirements for each lift type.
We have outlined the wheelchair platform stairlift requirements below as well as some additional items that are a worthwhile consideration as part of your Part M stairlift.
Using access stairlifts in buildings
Wheelchair stairlifts work by travelling up the flight of a staircase and are generally used in exceptional circumstances, typically within an existing building, provided its installation does not conflict with requirements for means of escape. Often these inclined platform stairlifts are used to provide access to an annexe, or sub-section of a building that can't be accessed by the main lift.
Platform stairlift design considerations
Though there are general design considerations, there are also some more specific details. Below are the key questions to help ensure the requirements are met.
1. Does the area surrounding the lift enable free and easy movement?
Wheelchair platform stairlifts work by travelling up the flight of a staircase, but it's important to note that they must not be installed where their operation restricts the safe use of the stairs by other people, in particular, staircases used for evacuation purposes.
As such, there is a minimum stair width that needs to be maintained when the wheelchair platform is in the parked position. This is defined in Section 4.15 Width of Escape Stairs in Part B fire safety building regulations:
Table 6: Minimum widths of escape stairs

Situation of stair
Maximum number of people served
Minimum stair width (mm)

1a. In an institutional building (unless the stairs will only be used by staff)


150

220

Over 220


1000 (²)


1100



See Note

1b. In an assembly building and serving an area used for assembly purposes (unless the area is less than 100m²)

1c. In any other building and serving an area with an occupancy of more than 50

2. Any stair not described above

50 800
However, where space allows, 90° and 180° parking off the staircase can be configured as demonstrated below, reducing the required minimum width of escape stairs.
Additionally, the ease of exiting and entering the inclined lift for the user should be considered. There is detailed guidance around the manoeuvring space that can be found in the regulations but the general rules state that clear and sufficient space must always be left in front of the lift and controls should be easy to reach.
2. What type of configuration do you require?
Wheelchair lifts are in essence all 'through' platform lifts, with the ability to have a side access ramp added to aid getting on the lift at the lower level. Whilst travelling and once at the top of its travel, this side ramp does not come down, remaining up, to create a safety 'tray', with only the end ramp coming down onto and level with the upper rounded edge of the flight of stairs.
Part "M" requests an 800mm x 1250mm platform size for use in public areas, shops, sports centres and public buildings (libraries, etc). However, lift platform size selection is often based on the available space that the building has, generally, older buildings are not designed to accommodate lifts. Therefore, if a larger or smaller lift platform size is required, approval from building control must be sought as to what is acceptable for the area.
3. Do you require a seating option?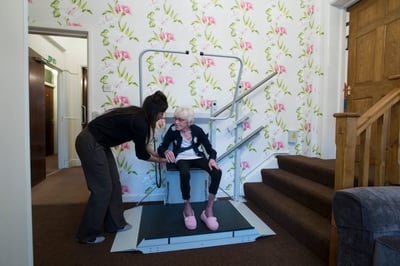 Some disabled people either do not use a wheelchair (as an example, some elderly people with limited mobility), have another chair waiting on the new level, or simply prefer not to travel in the chair.
Weight is also a consideration with some battery-powered wheelchairs exceeding the payload capability. These are not to be confused with mobility scooters, which are generally much heavier and have longer and wider wheelbases for stability. The user must sit in the middle of the lift chair, must be restrained with a seat belt (which can be provided) and must never stand on the platform whilst travelling.
4. What operation do you require?
The majority of wheelchair platform stairlifts are operated by continuous pressure controls, either a button or occasionally a joystick. The rated speed of these types of lifts does not exceed 0.15m/s. Due to the controls and the slow travel between landing, it's important to note that they may not be suitable for users with certain disabilities, for example, those who become easily fatigued.
It's essential that wheelchair platform lifts are only to be installed where users can be instructed how to use them safely. Lift users do not always need to be supervised, but, a detailed risk assessment needs to be undertaken in order to ascertain the degree of mobility that the average user has. Typically, category 'A' & 'B' wheelchair users will be able to operate the lift themselves, but assistance for more seriously disabled people must be on hand if/when required.
The results of the risk assessment will also dictate whether an alarm is necessary, e.g. due to hearing-impaired users, then this will need to be included in the lift specification. It's also important that the lift is fitted with controls to prevent unauthorised use. This will ensure that fair access is provided for all but also ensures maximum safety at all times.
5. Does your lift comply with the relevant standards?
Lifting platforms must conform to the requirements of the Supply of Machinery (Safety) Regulations 1992. It also needs to comply to BS EN 81-40:2008 or where necessary, by product certification issued by a Notified Body. (Click here to see a glossary of lift standards).
Summary
For each different lift type, there are specific design considerations and provisions outlined in the Approved Document M - Volume 2. So once you know which product you require, it's always worth stating to your chosen lift supplier that you require a Part M compliant lift or 'Part M lift' and they should be able to assist you with the process.
Further detailed guidance on this topic is below:

Part M: General overview
Part M: General requirements for Lifting devices
Part M and Passenger lifts
Part M and Platform lifts
Of course, compliance to Part M is just one of the many factors to evaluate when choosing the right type of lift, or lifts, for your building project. In fact, we have a helpful blog outlining the three key considerations when choosing a lift.
How can we help?
A reputable lift provider will be able to assist you in your decision making, however, it's certainly worth being well-informed about these design considerations yourself. Here at Stannah, we offer a broad range of platform lift products (and passenger lifts) to enable easy vertical circulation, working with you to solve your access problem and comply with building regulations.
With over 50,000 installations across the UK and nearly 100,000 units in our service portfolio, we offer a wide range of lift solutions and services to move people and goods. Take a look at our product range or simply get in touch.
Contact Us