An Overview of the General Lift Requirements Within Part M: Volume 2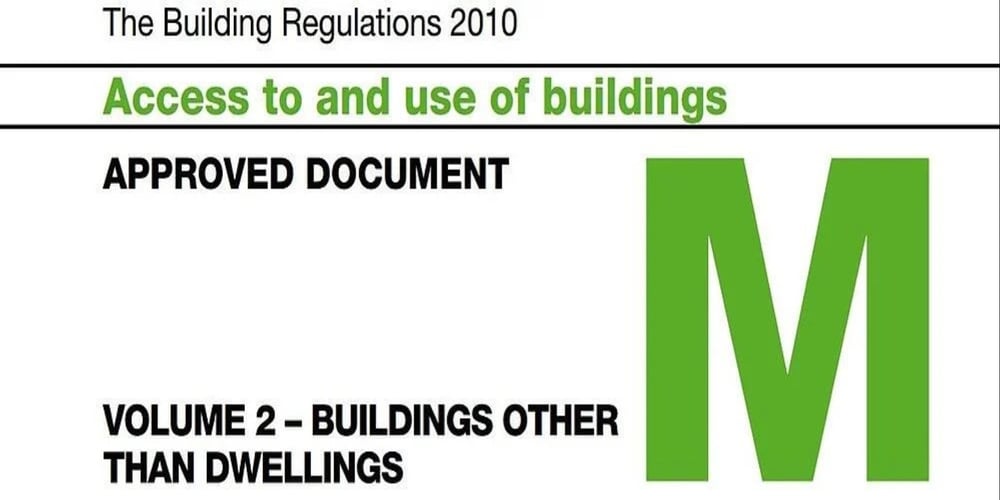 This post is the second in the series of our Part M: Volume 2 building regulations blogs and covers general lift requirements with Part M in greater detail.
What is Part M: Volume 2?
These building regulations refer to the accessibility and use of buildings, Approved Document M (2015 edition) Volume 2 for Buildings other than dwellings (all other building types) and gives direction on enabling a public access building to conform to the Equality Act (formerly DDA).
Section three of Part M Volume 2 sets the objective for the horizontal and vertical circulation of people in buildings, first covering the general lifting provisions and design requirements before going into specific requirements for each lift type.
Vertical circulation in the building - design considerations
Regardless of the type of lift there are certain general design considerations when placing a lifting device in any building to comply with the Part M building requirements.
The first of these requirements is that the most suitable type of lift for all users of the building has been selected and that if a lift cannot be accommodated, that other options should be considered to provide for users with mobility impairments (this includes both lifts and areas where a ramp can be provided). Other considerations include:
ensuring clear building signage, guiding users to the lift location and easy identification on the floor level the lift has travelled to, which can be seen from the lift.
this signage should contrast visually with its surroundings.
regardless of the type of lift, internal stairs should always be provided.
Provision of lifting devices
Although there are design considerations specific to the type of Part M lift you are installing, there are some general design considerations that apply to all;
3.21 For all buildings, a passenger lift is the most suitable form of access for people moving from one storey to another.
3.22 For existing buildings, and in exceptional circumstances for new developments with particular constraints (e.g. a listed building or an infill site in a historic town centre), where a passenger lift cannot be accommodated, a vertical lifting platform (enclosed platform lift), although not equivalent to a passenger lift, may be considered as an alternative option to provide access for persons with impaired mobility.
3.23 In exceptional circumstances in an existing building, a wheelchair platform stairlift (open platform) may be considered, provided its installation does not conflict with requirements for means of escape.
As we can see above, Part M states that the preferred solution to enable disabled access is a passenger lift, particularly for new buildings. But it also recognises that it may not always be possible for a new or existing development to accommodate one due to site constraints. In these instances, to achieve a Part M compliant lift, a lifting platform (platform lift) or as a last resort a wheelchair platform stairlift will be considered.
General requirements for lifting devices
The first step is to carefully consider whether the type of device you are planning to install is 'fit for purpose' (Section 3.25 of Part M, Vol.2). To ensure this is met, you must refer to relevant legislation such as the Lift Regulations, the Lifting Operations and Lifting Equipment Regulations (LOLER), the Provision and Use of Work Equipment Regulations (PUWER) and the Management of Health and Safety at Work Regulations.
Careful design considerations obviously play a large part in meeting all of the above regulations, as well as adhering to the building regulations, but there are also practical considerations about visibility and ease of operation:
3.26 The illumination in the passenger lift car, on the lifting platform or on the wheelchair platform stairlift should minimise glare, reflection, confusing shadows or pools of light and dark.
3.27 All users including wheelchair users should be able to reach and use the controls that summon and direct the lifting device.
Below are 3 key questions to ensure the general installation requirements are met, which if closely followed can help to ensure compliance;
1. Do you have a method to contact someone outside the lift should it stop?
In the unlikely situation of passengers being trapped in the lift, there is a responsibility to ensure the user(s) are able to alert others and communicate with them, therefore a suitable emergency communication system must be fitted. This continues to be a responsibility of the lift owner throughout the life of the lift. There are a number of communication options available depending on the environment the lift is installed into and the type of product.
2. Are all users able to use the lift independently, without concern?
It's important to consider whether those with a visual impairment can operate the lift, therefore controls should be raised and visually contrasted with adequate lighting in place and a floor that has frictional qualities similar to, or higher than, the floor of the landing (which cannot be a dark colour).
The finishes/colours within the lift has an implication for users with a visual impairment, and it can also create confusion for those with dementia. If there are specific requirements for finishes it is always worth discussing this with your chosen lift company.
3. Does the area in front of, and in the lift enable free and easy movement? (with particular consideration for wheelchair users)
Detailed guidance around the position and functionality of lift doors and manoeuvring space can be found in the document, but the general rules state that clear and sufficient space must always be left in front of lifts, namely;
Unobstructed manoeuvring space of 1500mm x 1500mm, or a wide straight access route 900mm wide in front of each lifting device enabling easy turning and entrance to the lift car.

Landing call buttons located between 900mm and 1100mm from the floor of the landing and at least 500mm from any return wall to enable all users to be able to call the lift.
In many instances this is required to achieve the minimum of 500mm clear access from the landing call buttons. For lifting platforms this can be a frequent problem and one that can be helped through the installation of powered door operators and flush/pedestal-mounted call stations at each landing.
A handrail is useful for those requiring reassurance/assistance whilst travelling in the lift, and in some circumstances they can also serve to prevent lift controls from being knocked. There is a requirement for a handrail on at least one wall of the lifting device, with its top surface at 900mm (nominal) above the floor and located so that it does not obstruct the controls or the mirror.
Summary
For each different lift type there are specific design considerations and provisions outlined in Approved Document M - Volume 2. So once you know which product you require, it's always worth stating to your chosen lift supplier that you require at Part M compliant or 'Part M lift' and they should be able to assist you with the process.
Further detailed guidance on this topic is below:

Part M: General overview
Part M: General requirements for Lifting devices
Part M and Platform lifts
Part M and Platform stairlifts
Of course, compliance to Part M is just one of the many factors to evaluate when choosing the right type of lift, or lifts, for your building project. In fact, we've a helpful blog outlining the key considerations when choosing a lift.
How can we help?
Of course, compliance to Part M is just one of the many factors to evaluate when choosing the right type of lift, or lifts, for your building project. Building regulations: key guidance for lifts gives a useful overview of the general regulations, standards and guidance that relates to lifts.
A reputable lift provider will be able to assist you in your decision making, however, it's certainly worth being well-informed about these design considerations yourself. Here at Stannah we offer a broad range of products to enable easy vertical circulation, working with you to solve your access problem and comply with building regulations.
With over 50,000 installations across the UK and nearly 100,000 units in our service portfolio, we offer a wide range of lift solutions and services to move people and goods. Take a look at our product range or simply get in touch.
Contact Us