Part M: Volume 2 & Platform Lifts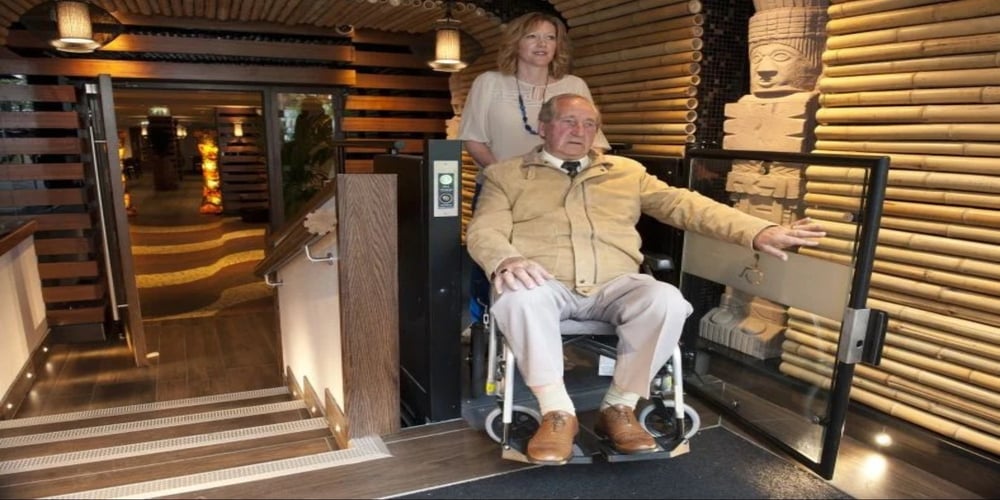 This post is the fourth in the series of our Part M: Volume 2 building regulations blogs and covers the detailed requirements for lifting platforms.
What is Part M: Volume 2?
These building regulations refer to the accessibility and use of buildings, Approved Document M (2015 edition) Volume 2 for Buildings other than dwellings (all other building types) and gives direction on enabling a public access building to conform to the Equality Act (formerly DDA).
Section three within Part M sets the objective for the horizontal and vertical circulation of people in buildings, first covering the general lifting provisions and design requirements before going into specific requirements for each lift type.
We have outlined the platform lift requirements below as well as some additional items that are a worthwhile consideration as part of your Part M lifts.
Platform lifts in building
Generally speaking, vertical lifting platforms, also known as platform lifts or access lifts, tend only to be used as an alternative where it's not possible to fit a passenger lift, or where traffic flow means the lift is used to provide access for persons with impaired mobility. This is referred to in Sections 3.25 and 3.35 of Part M, Vol 2.
Platform lift design considerations
Although there are general design considerations, there are also some more specific details. Below are the key questions to help ensure the requirements are met;
1. Does your lift comply with the relevant standards?
Lifting platforms must conform to the requirements of the Supply of Machinery (Safety) Regulations 1992. It also needs to comply to the relevant BS6440:2011, EN81-41:2010, EN81-42 (draft) series of standards, or where necessary, by product certification issued by a Notified Body. (Click on this link to see a glossary of lift standards).
2. What type and configuration do you require?
There are a range of disabled access lifts in the market with a variety of options. One distinguishing factor is that they travel at a rated speed of less than 0.15m/s. The type of user, travel, as well as any restrictions that the building itself may cause, will all help to determine the right product for your requirement. For example:
For travels greater than 2 metres then an enclosed platform lift should be used, for travels less than this there is also the option to choose an open/unenclosed version.

Some enclosed platform lifts are available with a cabin option and /or sliding doors, giving more of the look and feel of a passenger lift

The majority of lifting platforms are operated by continuous pressure push button controls. However there are also options for joystick controls or one-touch buttons. One-touch buttons are becoming increasingly popular as they are easier operationally and far more suitable to longer travels.
Part M states some minimum sizes to comply with the building regulations:
Capacity

Minimum platform size*

Minimum door width

Travel

Open platform lift

Unaccompanied wheelchair user

800mm wide x 1250mm deep

800mm

Low rise (up to 2m)

Cabin/Enclosed platform lift

Unaccompanied wheelchair user

900mm wide x 1400mm deep

800mm

Medium rise

Cabin/Enclosed platform lift

Unaccompanied wheelchair user (adjacent entry) /

Accompanied wheelchair user

1100mm wide x 1400mm deep

900mm

Medium rise
* Part M recommends at least 400mm from any return wall
Ideally, the regulations also recommend (in buildings where space and planning allows) to consider the fitting of opposing doors (used for access between two levels only) to enable a through car arrangement (referred to in part 3.41), as they enable a wheelchair user to exit without having to reverse.
3. Does the area in front of, and in the lift enable free and easy movement (with particular consideration for wheelchair users)?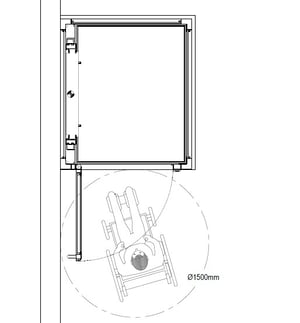 Detailed guidance around the position and functionality of landing doors and manoeuvring space can be found in the regulations but the general rules state that:
clear and sufficient space must always be left in front of lifts;

landing buttons and car controls should be easy to reach;

doors have an effective clear width (as stated in the table above)

landing call buttons must be easily accessible for all and located between 900mm and 1100mm from the floor of the landing and at least 500mm from any return wall.
The type of landing door is another factor as some lift users (such as the elderly or anyone with a physical disability) may find door operation harder.
For lifting platforms this can be a frequent problem, that's helped through the installation of powered door operators and flush/pedestal-mounted call stations at each landing. In many instances, this is required to achieve the minimum of 500mm clear access from the landing call buttons.
4. Are all users able to use the lift independently, without concern?
The needs of lift users with an audio or visual impairment must be taken into consideration and the following regulations must be adhered to in order to avoid danger, discomfort and confusion of users.
Landing doors should be clearly distinguishable visually from the adjoining walls and areas of glass are identifiable by people with impaired vision. The most cost-effective option for this is ensuring the wall colour is sufficiently different from the lift.
Lifting device controls are raised, visually contrast, adequate lighting (within enclosed lifts) and the floor should always have frictional qualities. Whilst the finishes/colours within the lift have an implication for users with a visual impairment, it can also create confusion for dementia sufferers (find out more in our blog about specifying with dementia in mind). A handrail is fitted for those requiring reassurance/assistance whilst travelling in the lift.
If there are specific requirements for finishes it is always worth discussing this with your chosen lift company.
5. Do you have a method to contact someone outside the lift should it stop?
In the unlikely situation of passengers being trapped in the lift, there is a responsibility to ensure the user(s) are able to alert others and communicate with them. This can be through an intercom, alarm or an autodialler connected to a phone line. The most suitable emergency communication system is dependent on the lift location and continues to be a responsibility of the lift owner throughout the life of the lift.
Summary
For each different lift type, there are specific design considerations and provisions outlined in the Approved Document M - Volume 2. So once you know which product you require, it's always worth stating to your chosen lift supplier that you require a Part M compliant lift or 'Part M lift' and they should be able to assist you with the process.
Further detailed guidance on this topic is below:

Part M: General overview
Part M: General requirements for Lifting devices
Part M and Passenger lifts
Part M and Platform stairlifts
Of course, compliance to Part M is just one of the many factors to evaluate when choosing the right type of lift, or lifts, for your building project. In fact, we've a helpful blog outlining the three key considerations when choosing a lift.
How can we help?
A reputable lift provider will be able to assist you in your decision making, however, it's certainly worth being well-informed about these design considerations yourself. Here at Stannah we offer a broad range of platform lift products (and passenger lifts) to enable easy vertical circulation, working with you to solve your access problem and comply to building regulations.
To see key product requirements, building considerations and typical installation times, why not take a look at our handy passenger lifts and platform lifts infographic.
With over 50,000 installations across the UK and nearly 100,000 units in our service portfolio, we offer a wide range of lift solutions and services to move people and goods. Take a look at our product range or simply get in touch.
Contact Us