Dementia Friendly Lift Design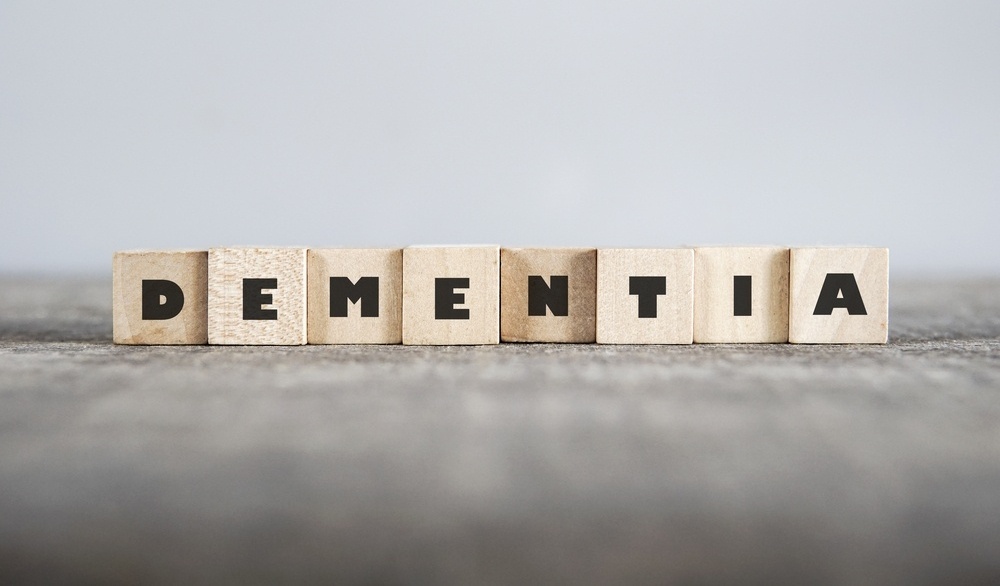 A helpful guide on the process of specifying lifts for dementia sufferers and all the considerations that need to be taken into account when carrying out this process…
Dementia: An introduction
Dementia remains one of the biggest problems facing our ageing population, causing more disability in later life than cancer, heart disease or strokes and costing the UK an estimated £26 billion a year.
By 2025, it is predicted that more than a million people in the UK will have dementia – soaring to two million by 2051, so, it's hardly surprising that this now needs to be a key consideration for both existing and new buildings. Studies have shown that the cognitive impairment, which affects people who are suffering from dementia can be aggravated by certain building designs; which with careful planning can easily be avoided at little extra cost.
Incorporating dementia in building design
The challenge of designing buildings that are suitable for use by everyone in society means that Architects need to be aware of the specific needs of people with dementia, and as such there is practical advice provided by RIBA (Royal Institute of British Architects). In addition to Architects looking for guidance on dementia, increasingly NHS trusts, private nursing care providers, local authorities and housing associations are driving the growing awareness of the issue. The Dementia Services Development Centre (DSDC) (part of the University of Stirling), works to improve the lives of people living with dementia through care and design, to make communities more dementia-friendly, influence policy and improving services for people with dementia.
Although the science behind such dementia design is still being developed; there are now over twenty years of research which supports the claim that buildings designed with dementia friendly features can significantly help to minimise psychological effects of the disorder such as disturbing behaviour, anxiety and unwanted exiting, as well as the physical symptoms such as falls and incontinence.
Dementia friendly lifts in hospitals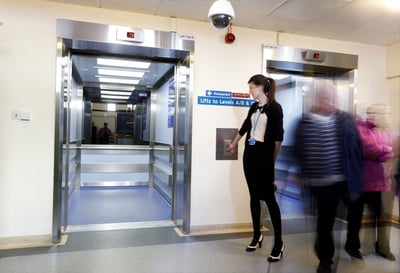 Modern hospitals are busy, noisy places with a high-turnover of patients. People with dementia can find this environment extremely difficult to navigate and the raft of different specialism's and terms can be confusing. As a result, it may not always be obvious to dementia sufferers where the hopsital lift is, and there are not always staff on hand to assist with this.
The Health Technical Memorandum 08-02 (HTM) gives comprehensive guidance and advice on the planning, design, installation, commissioning, testing, maintenance and operation of hospital lifts and escalators within new builds as well as guidance on upgrading and modernising existing buildings in the health sector.
From our platform and passenger lifts providing access in health centres to our huge bed lifts in leading hospitals, we are helping to make significant improvements to access across the UK's health service. We work to the Health Technical Memorandum (HTM) and specifiers to ensure a robust hospital lift specification, suitable for heavy duty and with specialist requirements, including fire-fighting, evacuation and call priority.
There are no specific references to creating dementia-friendly hospitals within the HTM, however the DSDC Virtual Hospital shows how the careful consideration of design elements within a building can make a hospital setting dementia-friendly, including dementia-friendly hospital lift design.
Dementia friendly lifts in care homes/retirement housing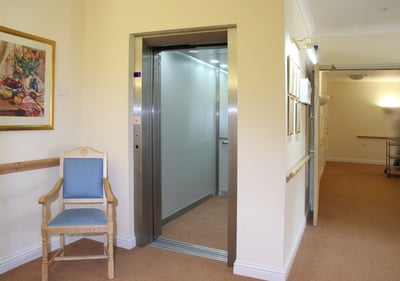 To accommodate a dementia sufferer every building element must be considered, from the signage used throughout a care/retirement home, to the style of taps and plumbing used within bathroom facilities. For example, patterns on the floor or a mixture of colours can cause momentary confusion which can lead to trips or falls. These issues all need to be considered for dementia friendly care home environments/dementia friendly retirement housing when it comes to having new lifts installed or updating the current care home lift design.
The DSDC guidance not only gives clear information on design within new care buildings, it's also a useful reference tool for owners during building renovation, extension, refurbishment or a simple reorganisation. This guidance on designing dementia-friendly buildings is based on addressing the symptoms of the illness and understanding the age-related changes associated with dementia. This can help to prevent falls and give residents greater freedom and independence for longer.
Dementia sufferers often have visuospatial problems and cannot see 3D, an issue which if not addressed through design can lead to an increased risk of trips and falls. As many dementia sufferers often struggle to negotiate stairs and there is an increased risk of falls due to confusion, having adequate and suitable lift facilities within care homes is essential.
You can find full guidance on specifying lifts for care homes and retirement homes in our blog Specifying lifts for care homes which covers the process of specifying lifts for nursing homes and the lift design considerations.
The Design Audit Tool for Care Homes, Day Centres and Medical Centres
The Design Audit Tool produced by the DSDC seeks to provide a framework for making decisions about design and spaces for people with dementia in existing buildings, new buildings and refurbishment projects in care homes, day centres and medical centres .

Under the audit, three different certification levels can be obtained. Bronze (60-74%) means a building is an adequate example of design for people with dementia, Silver (75-89%), means it is a good example of design for people with dementia, and Gold (90% or above) means that a building displays an excellent example of design for those with dementia.
Overall scoring is from a mix of essential and recommended category points. With the final score weighted according to category. Lifts are covered within section 1 of the 11 sections of the audit tool and account for 8 recommended points out of the 42 (3.4% of total overall score).
The guidance notes for the audit tool do not make recommendations for the most suitable type of lift specification but they do recommend seeking further advice from BS8300, relevant building regulations and the Equality Act.
To help assess certain buildings, the DSDC has created an app, named Iridis to digitally assess how suitable a residence, care facility or other environment is, which will be available to download from September 2017.
Depending on the application, building constraints and type of use then either a platform lift(s) or passenger lift(s) can be used to get the recommended points to help achieve a gold DSDC certification standard.
Top tips for lift design for dementia
Whether a passenger lift or platform lift is the most suitable product to suit the building and user requirements, there are items that can be added to the lift specification for health and social care. Here's some of our top tips for lift specification when it comes to dementia-friendly lift design…
Lift specification and finishes
Lift interior should be pastel coloured, not reflective or shiny. The use of strong or swirly patterns should be avoided as for dementia sufferers they can appear to move.

Flooring should match the landings avoiding variations that can lead to hesitancy, slips, trips or falls. A sparkly or swirly finish and the colours black and blue should be avoided (as they can be mistakenly interpreted for a hole or body of water).

Lift skirting should contrast with both the floor and walls.

Lighting should be bright and uniform and most standard lifts have a diffusing ceiling to minimise shadows which can be misinterpreted as holes or objects.

The use of mirrors or reflecting surfaces should be avoided as reflections can be interpreted as a stranger. If a mirror is required for wheelchair users then it should be angled at height. As this conflicts with guidance in Part M building regulations and elsewhere, it will require dispensation from Building Regulations.

Lift controls must be easy and intuitive to use. If you are specifying a platform lift for a building you may want to consider whether the automatic (one-touch) button in a cabin platform lift is more suitable than the constant pressure required for traditional platform lifts.

Ensure that the lift has a verbal system, which clearly advises passengers of their location, door movements and arrival at their destination. All lifts also require some form of emergency communication device to enable trapped passengers to notify someone they are trapped in the lift. However, you may want to consider installing an additional device at the floor of the lift car (within passenger lifts).
It's worth noting that care must be taken with lift announcements to ensure they do not startle or confuse a person with dementia.
Lift landings and location
Use clear and attractive signage towards the lift in a bold face with good contrast between the text and the background.

Access doors must be easy to distinguish from the background. This can easily be achieved by the use of a different colour or tone to set these apart, or for passenger lifts painting around the architrave. The glass doors on platform lifts should be clearly marked, as people with dementia may not see the glass. Additionally, the door handrail should contrast with the colour of the door.

Passenger lifts should be equipped with sensors to keep the doors open until residents are safely inside and to avoid the abrupt closure of doors which could frighten users. These can also be adjusted to give more time to enter the lift.

Landing button controls must be large, clear and contrast with the surrounding area.

Finally lift shafts/enclosures should ideally be positioned away from bedroom walls as unexpected noise from the lift whilst in use can create distress or confusion.
By taking into to consideration all the items above you should have a lift that gets full points to help you achieve the gold standard for the Design audit tool (if relevant) and a lift that is designed to be as dementia-friendly as possible.
How Stannah can help
With the number of people with dementia predicted to reach a staggering two million by 2051, designing dementia-friendly retirement homes or other buildings that are suitable for dementia sufferers is an essential consideration that shouldn't be ignored.
Stannah have installed nearly 50,000 lifts so can guide you through the lift specification process, helping to ensure you have a building with safe and fair access for all and is designed for all lift users in mind.
Whatever your requirements, with over 150 years of experience, Stannah can help, so get in touch to find out more about the next steps.
Have a question? No problem! Get in touch to speak to one of our lift experts.
Useful reading:
With nearly 50,000 installations across the UK and over 92,000 units in our service portfolio, we offer a wide range of lift solutions and services to move people and goods. Take a look at our product range or simply get in touch.
Contact Us