10 Questions to Help You Choose the Right Lift Specification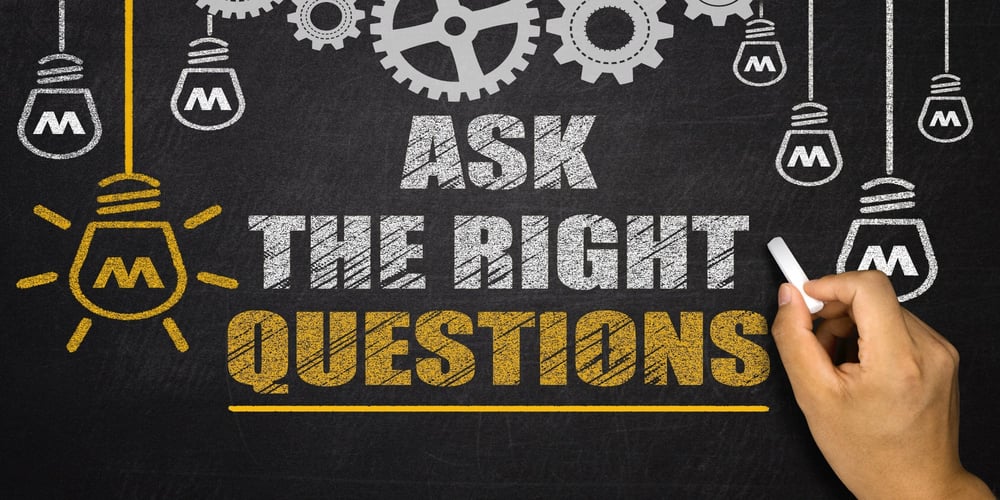 So you've decided that your project needs a people moving lift. But which type do you need? To help you choose the right lift specification, we've come up with some questions to consider.
Traffic analysis is essential. After this, consideration should be given to the practical building requirements and the profile of the lift users. To help you identify the type of vertical passenger-carrying lift you require for your lift specification, here are several questions to work through.
A. Traffic analysis and users of the lift

Traffic analysis should always be undertaken when considering a lift, as the requirements can vary. For example, in an office, there may be traffic at the start of the day, at lunchtimes, and at the end of the working day versus a retail clothing store with children's wear placed upstairs. As part of traffic analysis, you also need to consider the following:
1. Number of people?
All decisions on the number of lift(s) you require (e.g. single, duplex or triplex), which location(s) you require them, all the way down to the actual size and type of the lift(s), will be governed by your traffic analysis. Different products can carry vastly different numbers of passengers. For example, platform lifts can hold anything from 1 to 5 people (or a wheelchair user and one attendant). In contrast, passenger lifts can vary from low to high travel, small lifts for 4 or 6 people, or up to larger lifts built to transport people, shopping trolleys etc.
Based on the traffic flow and size of the building, you may also want to consider whether you require an escalator or a moving walkway.
2. Who will be using your lift?
The types of people who use the building, and therefore your lift, are pertinent in the product choice. The features it may have and the options you need to include in your specification can be dictated by it. Therefore, it is worth ascertaining who will be using the lift and how it will be used. For example, suppose you are placing a platform lift in a nursing home or a place where elderly persons will use the lift independently. In that case, automatic buttons (instead of constant pressure or 'hold to run') will make the lift operation much easier.
• What types of people are going to be using it?
• Can they use the lift independently?
• Will they be carrying luggage or goods?
An inclined walkway or escalator is typically in addition to a lift as they are not suitable for wheelchair users due to the incline. Most moving walkways can accommodate accompanied wheelchair users, but it is worth stipulating this as a requirement.
B. Practical building requirements and building limitations

Before deciding on a lift product, you need to ascertain the practical requirements and constraints for your building; without this information, you cannot progress any further.
3. New or existing building?
When considering a lift, you must first consider the age and design of your building. New buildings can easily accommodate a lift shaft. However, older buildings can sometimes have a minimal capacity for major changes, such as creating a shaft, due to the required loadings or available space. If this is the case, then our self-supporting FX structure or platform lift range might prove the right solution for you.
4. What type of building are you placing the lift into?
You also may need to consider the life cycle of your building. A lifespan of a lift is at least 10 years or more. Therefore, you will need to know if the building use will change in that time or not.
5. How much space do you have in your building?
Analysing how much space you have available will allow you to assess if you can fit lifts of specific lift dimensions, sizes and capacity. If your building needs to comply with Part M, then a recommended minimum Part M lift size is as follows: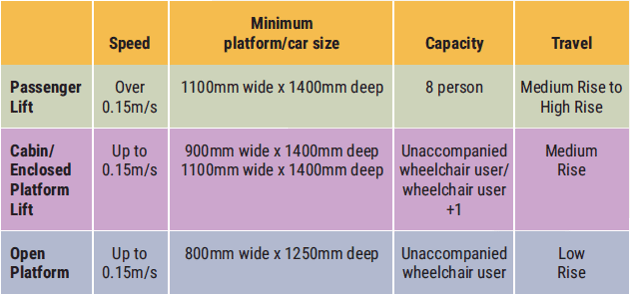 6. Number of floors or steps?
Determining the number of floors or steps that the lift(s) will be required to travel between. Most platform lifts go up to 12m, whereas passenger lifts can travel up to 40m or more.
7. How much headroom and pit depth are available?
Passenger lifts typically require greater pit depth and headroom than a platform lift, but they enable more frequent usage, faster speeds and higher travels. If headroom and pit depth is tight, platform lifts can be an option (subject to other factors). A ramp can also be fitted to the lift where a pit is impossible for platform lifts, but you will need to allow extra space on the lowest floor. If there are any limitations, it's essential to check what's possible with a lift company.
8. Do you have an existing lift shaft? Can you build one? Is there another option if you can't build a lift shaft?
If you have an existing lift shaft or can build one, it is best to ensure that it fits your preferred product choice's headroom and pit requirements. A site survey is often required for existing shafts or replacement lifts to recommend the most suitable option. Most lift companies, including Stannah, can provide this service.
C. The requirements of the lift(s)

As well as considering the size, speed and lift capacity, also consider the safety features and regulations they need to conform to and then finally, what you want them to look like. All these factors affect the choice available and the likely cost.
9. Aesthetics?
The lift car ceiling, walls, and flooring are all fully customisable for passenger and platform lifts when it comes to finishes. The finish of the lift comes down to the look and feel you are trying to create, whether you want the lift to be in keeping with the building's aesthetic and, of course, how much you want to spend!
10. Does the lift need to comply with particular regulations, standards and building requirements?
There are a whole host of standards and regulations surrounding lifts, including vandal resistance, fire-fighting (EN81-72) and emergency fire evacuation (BS999), to name a few. If you need to adhere to a particular standard, it is worth mentioning this from the outset. Otherwise, it may lead to additional costs down the road.
Stannah can supply you with any lift product suitable for a commercial building, so feel free to look through our lift range, case studies and download technical information.
Last updated: 6th September 2021
With over 50,000 installations across the UK and nearly 100,000 units in our service portfolio, we offer a wide range of lift solutions and services to move people and goods. Take a look at our product range or simply get in touch.
Contact Us