Goods lifts: frequently asked questions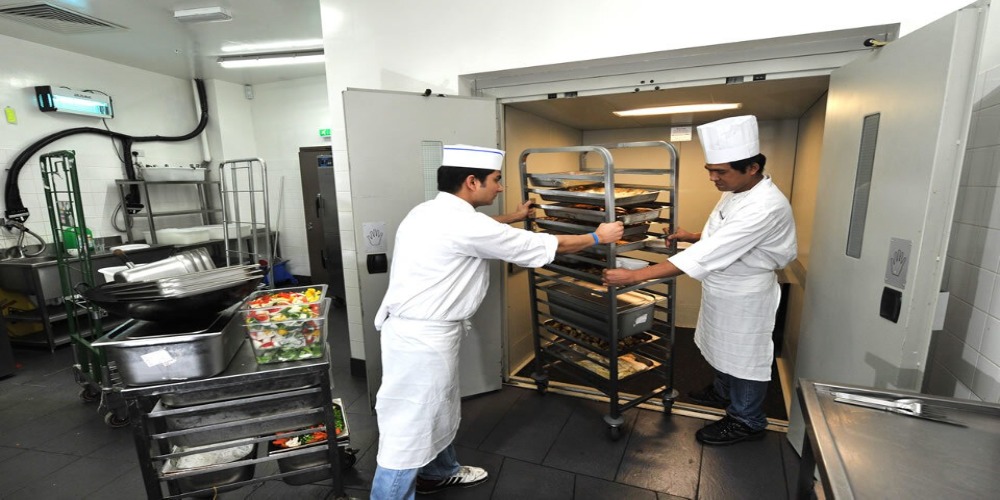 In this blog post we'll clear up some of the most common questions Stannah has heard about goods lifts. If you have a question that isn't covered here then please do get in touch and we'll be happy to help!
What is a goods lift?
Goods lifts are designed to move goods, palettes and heavy loads between two or more floors, they can also function as bin/bike lifts. They are traditionally seen in back of house applications, such as catering environments, moving stock in warehouses and retail storage areas. Due to their application, they are built to be rugged and sturdy and can travel up to 15 metres or five stops.
There are several types of lifts, from low-rise small lifts for roll-cages to larger versions travelling over several floors to move hospital beds. There are also goods attendant lifts that enable up to two people to accompany the load.
How do I know what type of goods lift to choose?
There are several factors to determine what type of Goods lift you will need for your circumstances, including;
the type of goods you want to move around your building

the site constraints

the frequency of use
Take a look at our blog: choosing the right goods lift for your business to learn more.
Have I got room for a goods lift in my building?
To find out if you have enough room in your building for a goods lift, a lift provider will survey your premises to advise about how your building can accommodate a lift and how you can position it to help you the most.
How do goods lift doors open? I'm concerned I have limited space.
Most goods lifts come with a choice of door configurations, hinged doors to give the largest opening, or concertina doors that fold back to save space in front of the lift.
I have reduced space on the upper floor of my building. Can I still have a goods lift?
Our goods lifts offer reduced headroom options for most situations and reduced pit models too.
Can I have a hoods lift installed without a pit?
In circumstances where a pit is not possible a ramp can be fitted. You will need to factor in the extra space required on the lowest floor to accommodate the ramp (the image below gives an example).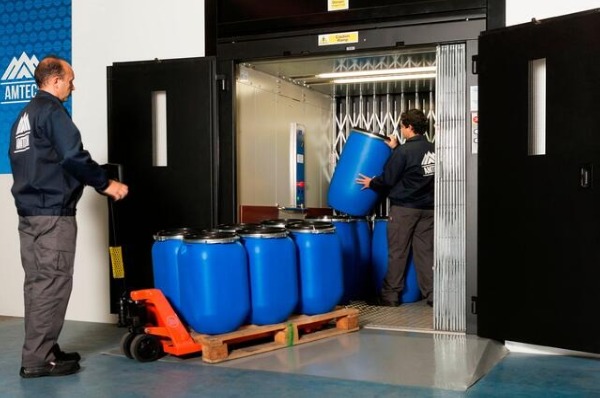 I have a low flight of stairs and/or ramp in my premises that makes moving goods physically demanding. What are my goods lift options?
Step goods lifts can be installed to overcome a change in levels of up to 1.5 metres. This is an investment that saves time, money and potential injury to staff as well as improves customer service.
Can a goods lift be used to access a mezzanine level?
You can certainly use a goods lift to access a mezzanine. You can install a goods-only or goods attendant lifts, depending on the nature of your goods and the function of the mezzanine level. Most lifts are structure-supported so minimal fixings to the building are required.
Do I need to build a lift shaft for a goods lift?
Whether or not your goods lift needs a lift shaft depends on the product you choose. Our larger goods lifts can be structure-supported, so there would only be a need to build an enclosure that is not load-bearing. The enclosure guards the machinery – the working parts of the lift.
Can I travel in a goods lift?
Since the change in the Machinery Directive in 2010, it is possible to carry up to two operatives with the goods, however, you will require an attendant-controlled goods lift with controls inside the lift.
Do goods lifts have similar operating controls to passenger lifts?
The operating switches for goods-only lifts are on the landing entrances of the lift. You can send or call the lift from each landing. If you need to travel with goods, then there will be additional constant-pressure operating buttons inside the lift as well as additional safety features.
How long will I have to wait to have a goods lift to install it?
Your new lift will have a lead time to manufacture your bespoke requirements. Once delivered, the lift can be installed in just a few days. You may need buildering work before installation, depending on where your lift is positioned.
What level of disruption to my business can I expect when a goods lift is installed?
Just a few days of disruption is usual for the installation of a goods lift. Bear in mind that this lift will benefit your business in the long term to offset this. Stannah does our very best to minimise any interruption to business while your lift is installed.
Summary
When it comes to goods and service lifts, you know you can rely on Stannah. With over 150 years, supplying, installing and servicing a range of high-quality lifts we can help.
If you have more questions about dumb waiters or goods lifts then please take a look at our free eBook, Goods lifts: your questions answered.
We hope we have helped you with making your choice about a goods lift. If you'd like to arrange a FREE site visit, please get in touch - we know we can help!
With over 50,000 installations across the UK and nearly 100,000 units in our service portfolio, we offer a wide range of lift solutions and services to move people and goods. Take a look at our product range or simply get in touch.
Contact Us