How lifts can help create accessible sports facilities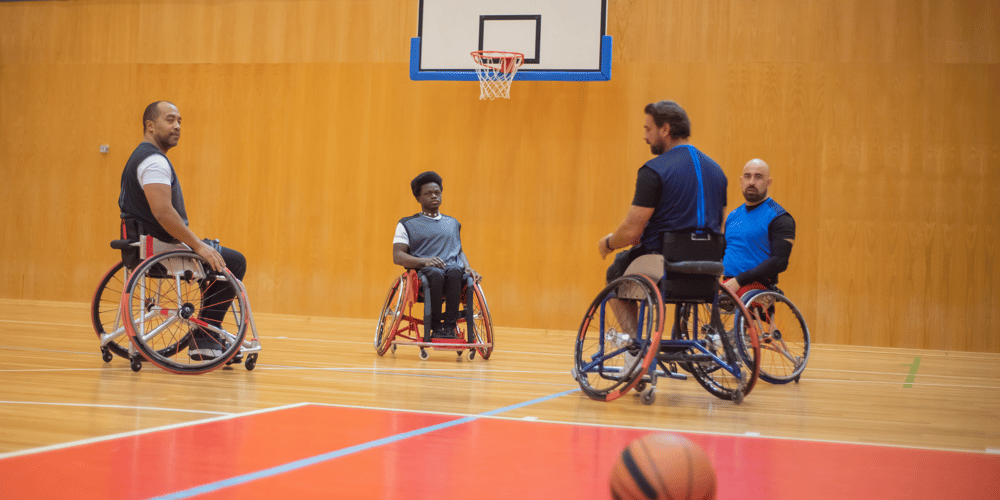 Poorly designed public leisure centres and sports grounds, including football and rugby stadiums, create barriers to participation for potential disabled users or access for disabled fans on matchdays.

However, Sports England's design guidance sets out advice on meeting the needs of the broadest range of people in sports facilities' design, operation and maintenance, following the principles of Inclusive Design. This includes considering the needs of parents with young children and older people, alongside the needs of people with mobility impairments, including wheelchair users - making sport accessible for all.
What does the guidance say about lifts?
Sports England guidance, like many others, refers to BS8300 Design of buildings and their approaches to meet the needs of disabled people – Code of Practice and Approved Document for lift design best practice.
The guidance also refers to the Olympic Delivery Authority's Inclusive Design Standards, FLA Accessible Stadia guide and DfT Inclusive Mobility.

A wide range of lifts are available to provide better access for people with disabilities, but how do you ensure you choose the right lift for a sports or leisure facility?
Passenger lifts
In most multi-storey facilities, at least 2 passenger lifts, should be provided for general access and to ensure that users are not inconvenienced/stopped from using the facility if one lift breaks down or is being serviced. These should be located close to reception and main circulation routes.
The number of lifts required would increase in a sports stadium like Old Trafford for example, depending on the number of disabled and non-disabled users expected to use them on matchdays to ensure neither experience delays entering or exiting the stadium.
Whilst most other recommendations align with Part M and BS8300 the additional stipulations are:
Passenger lifts should as a minimum, be an 8-person, but preferably a 17-person lift so more than one wheelchair user can fit at a time
If the lifts are part of a sports chair zone then as a minimum, they should be 17-person to make provision for larger sports chairs and have a wider door clear opening of 1.2m
A fold-down seat is advisable in larger lifts
Looking for fire-fighting or evacuation management?
Passenger lifts are the only type of lifts that can be used to evacuation and fire-fighting. They can be used for evacuation purposes if the design provides safeguards to the lift's engineering system and lift shaft construction and reduces the need for physical assistance when evacuating disabled spectators - a practical necessity for stadiums. Firefighting lifts are provided for use by the fire service in fighting fires and can also sometimes be used to evacuate disabled people. Stadium management must liaise with the relevant fire authority to coordinate procedures for using a firefighting lift for evacuation purposes.

Our range of passenger lifts are ideal for providing access to facilities in sports venues split over several floors, allowing disabled people to reach the upper levels quickly and safely.

---
Platform lifts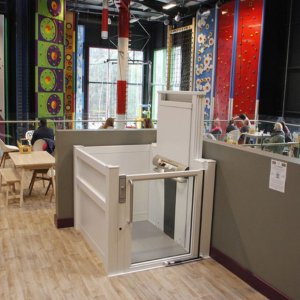 If a conventional passenger lift can't be accommodated in an existing building or in a smaller sports facility, like Part M, the guidance notes that vertical platform lifts are acceptable. Where the design guidance notes differ from Part M is that they state a wheelchair stairlift (also known as a vertical inclined platform lift) are not an acceptable means of access for any type of sports facility. Whereas Part M states they are acceptable as a last resort, and only on stairs not used for emergency exit.

There are two types of vertical platform lifts: enclosed and non-enclosed platform lifts used to transfer wheelchair users in their wheelchairs. Enclosed platform lifts can travel up to 12m, whilst non-enclosed up to 3m.

Most platform lifts have limited platform size and can only accommodate one wheelchair at a time, so they are not a suitable lift solution for a sports facility that needs to provide access for many and frequent wheelchair users. Platform lifts also travel at less than 0.15m/s so are not suitable for high travels or frequent use.

For these reasons, platform lifts are ideal for smaller golf, cricket, football or rugby clubs where space is tight.

---
Useful references
More guidance on access to leisure can be found in the links here:
Why Stannah?
Any sports club or facility complying with the checklist and guidance above will be well on their way to providing the minimum lift requirement to improve disabled access. But at Stannah, we always recommend aiming for a high-quality lift specification when designing accessible sports facilities to further embrace those with mobility requirements to lead more physically active and healthy lives. You can find examples of our experience in the leisure sector here.
So if you are considering a lift for inclusive access at a sports halls, stadium, gym or leisure centre, we know that our broad range of passenger and platform lifts allows you to choose the right solution for your needs. Simply speak to us for design and cost guidance.
With over 50,000 installations across the UK and nearly 100,000 units in our service portfolio, we offer a wide range of lift solutions and services to move people and goods. Take a look at our product range or simply get in touch.
Contact Us