Ideas for different types of lift car interior design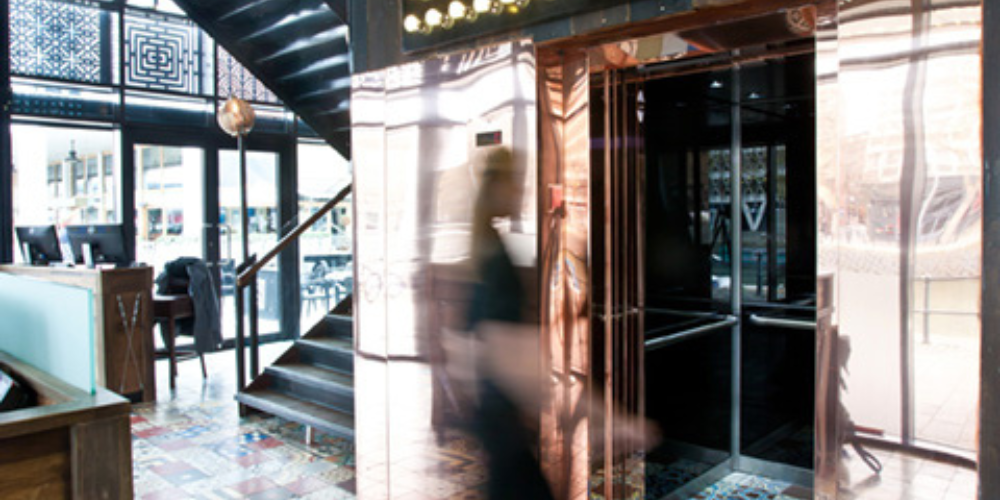 When installing a new passenger lift, the choice of lift car interiors is wide. And that's even before you consider customising with your own design material to create a bespoke lift interior unique for the building tone and user experience. This blog helps talk about the finish options available and some of the good-looking lifts we've had the privilege to install.
Below we've covered some areas where you can customise your lift design, both standard and bespoke options for passenger lift design.
Landing doors & entrances

Even before a user steps into a lift, it's making an impression. Landing architraves and doors are designed to provide a smooth transition between the building interior and the landing entrance.
Looking for the wow effect? A simple option is full-depth landing architraves, which provide a smooth transition between the building interior and the landing entrance.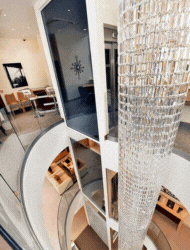 As doors are a moving element on the lift, it's important that the right high-quality material is selected due to running clearances scratching delicate materials. Typically this is why you see stainless steel doors as standard. However, there are additional options, including glass, special door finishes and colours, along with wide frames and full landing entrances in various materials.
As doors are a moving element on the lift, it's important that the correct doors are selected with the appropriate running clearance to prevent damage, such as scratching to the finished material, which occurs when there is not enough running clearance incorporated into the design or the doors are not correctly set up or maintained.

In one installation, we wrapped the doors in wood effect vinyl to better match the grade two listed interior. If considering doors to be wrapped, painted or coated in any finish of your choice, then it's worth checking if the lift service provider can provide this or give relevant guidance for your selection criteria.
---
Lift car walls & floors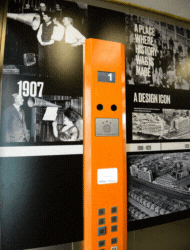 Upon stepping into an empty lift, walls and floors are the largest and most visible part of a lift interior and therefore have the most visual effect. Laminates, vinyl skin plates, stainless steel and coloured glass with a range of hues and effects are available as standard on most passenger lift cars.
Shiny, reflective finishes add brightness to your lift, making a smaller lift cabin appear larger and more spacious. Mirrors help to make the space feel larger and help the lift to comply with regulations too. And if you need a more resilient option for your lift, stainless steel mirrors can be used in place of glass as a safety feature.
Whilst black glass was a popular lift car finish a few years ago, these days, it tends to be ornate timber wood panelling or bronze-effect stainless steel. An incredibly cost-effective option is to vinyl wrap a lift like this one at the Old Vinyl Factory. Although that being said, we've also covered the lift interior with the front covers of The Economist for one avid reader!
Non-slip safety floors such as rubber are a popular choice as it is lightweight, durable and easy to clean and comes in a range of finishes, though for lifts with high wear and tear, we recommend metal flooring.
Matching the flooring so it's identical to the flooring at the landing entrance is a popular requirement. However, it's worth noting that heavy-weight floor materials such as marble or granite are included in the working load (and therefore the lift's capacity).
---
Landing and lift buttons and display control panels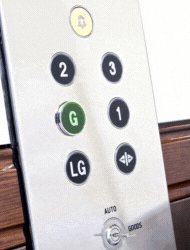 Typically display controls can be customised with digital displays and branding, providing users with clearer and more accurate information. The car operating panels themselves can be coloured or finished in most metal or glass materials. However, landing controls are more limited to stainless steel.
Modern design offers a huge variety of lift button interfaces; it's crucial to remember that usability is always the most important thing. There are various options for push buttons, from standard to special buttons to suit vandal resistance or outdoor.
Like other lift suppliers, we offer a choice of on our passenger lifts, complying with EN81-70 where needed.
---
Bespoke lift interior finishes
A frequent request for high-end retail, commercial buildings and large private residences is for the lift to make a statement, often looking for the choice to match the external facade of the lift with the style of the surrounding décor. Or to draw attention to the lift installation as a design statement.
With a bespoke lift interior, a world of design options is available. However, it's important to understand that the options are not limitless, and several considerations and rules must still be complied with.
Examples of some of these rules are that materials will need to be robust enough not to be damaged, they must be resistant to flame, and there are rules concerning wall material thickness. Also, the weight of lift interior finishes adds to the overall mass of the lift system and lift rating.
Some lift companies, like Stannah, offer a specialist fit-out service, sourcing lift finishes, fixtures and fittings to create a truly unique, bespoke lift design or supply a bare lift car ready for fitting out by your preferred contractors giving relevant guidance to ensure standards are met.
---
Already have a lift?
With lifts lasting for decades, the existing lift cabin can sometimes look tired or worn out. Here our service branches can refurbish the panels, flooring and lighting to refresh the design or the full lift - immediately improving the passenger experience. See our lift modernisations and refurbishment page if you are considering a lift refurbishment for an existing lift.
---
Why Stannah?
Whatever your vision, Stannah can work with you to create a lift that compliments your building's interior design or brand. Whether that's a modern, futuristic lift design or one that blends within a heritage period interior.
With over 50,000 installations across the UK and nearly 100,000 units in our service portfolio, we offer a wide range of lift solutions and services to move people and goods. Take a look at our product range or simply get in touch.
Contact Us