5 FAQs on the EN81-20 & EN81-50 lift standards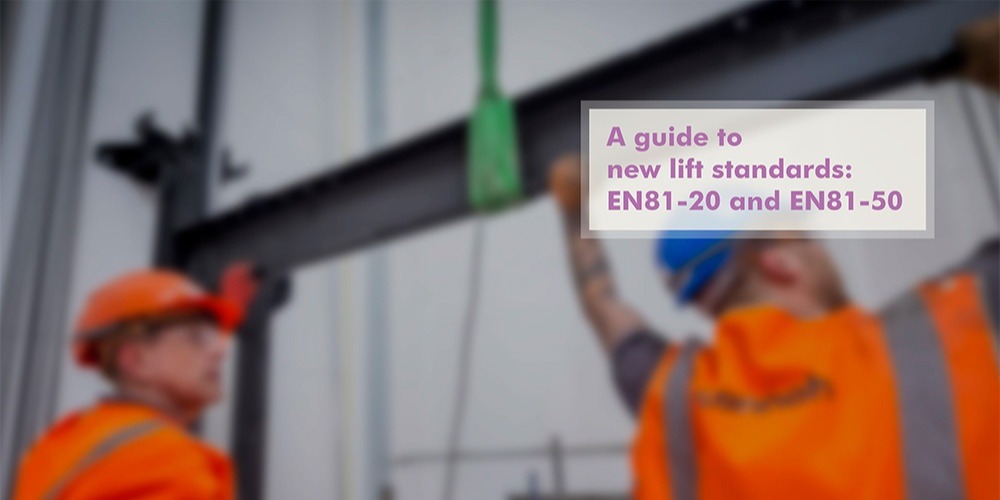 Post updated for 2020 - In September 2017, EN81-20 and EN81-50, two new safety standards for the construction of lifts and the testing of lift components were introduced, bringing benefits in terms of safety and accessibility for both lift passengers and service engineers. We've covered the most frequently asked questions...
1. What are the main differences between the standards and where do they apply?
Any passenger lift placed into service after the 31st of August 2017 needs to comply with the EN20/50 standards. The old standards EN81-1 and EN81-2, introduced in 1998 are no longer in force and are applicable for lifts handed over before this date.
The latest passenger lift standards provide greater lift safety, accessibility and comfort for both passengers and service engineers. The standards also make stipulations in terms of building design and interface.
EN81-20: 2020 (formally EN81-20:2014) covers building requirements as they apply to the design of the lift shaft. EN81-50:2020 (Safety rules for the construction and installation of lifts) (formally EN81-50:2014) covers the design rules, calculations and test and examination for lift components and is for lift installation companies to conform to.
Both standards apply for passenger and goods passenger lifts that fall under the Lifts Directive. These standards do not cover passenger-carrying lifts with speeds below 0.15m/s or goods only lifts (Machinery Directive lifts).
2. What are the key changes to be considered when designing buildings?
EN81-20:2020 (formally EN81-20:2014) covers building requirements as they apply to the design of the lift shaft. The changes since the old standard means specifically:
The allowance of space for refuge spaces has changed so there may be a requirement for greater pit depth and headroom for the lift, particularly on smaller passenger lift sizes

Shaft walls must be constructed with sufficient strength to withstand an impact force of 1000N

Where fitted as part of a building's fire strategy, lift shaft sprinkler systems can be fitted but their activation shall only be possible when the lift is stationary at a landing and the electrical supply of the lift and lighting circuits is automatically switched off by the fire or smoke system. (This does not apply to firefighting lift wells and machinery spaces, however, where sprinkler systems are not permitted)

Responsibility for ventilation of the shaft falls to the building designer

Increased lighting levels in the lift shaft

Greater protection around unintended movement and overspeed

Brighter car lighting

Improved clearance of light curtain on doors to avoid smaller objects being trapped

Improved strength and durability of car walls, roof, doors and landing doors

Additional strength required for the safety glass used in the lift car or shaft construction and glass must be laminated

Higher requirements for fire resistance of car interiors

Building shrinkage considered in elevator design for buildings higher than 40m to ensure greater ride quality
3. Have the design requirements for a passenger lift changed?
For the most part, the design requirements of EN81-20 will be covered by the lift manufacturer and stated in the builder's work drawings.
If own walls and floor finishes are being selected, e.g. bespoke lift finishes matching the building design. The materials used for car floors, walls and ceilings must meet the fire classification requirements outlined in EN 135001-1. The minimum classifications are:
Ceilings: C, s2 and d0
Floors: Cfl. s2
Walls: C, s2 and d1
The 'C' and 'Cfl' classifications above refer to the reaction to fire and 's' and 'd' refer to the classification of materials concerning smoke and formation of flaming droplets and particles respectively.
4. What happens if my project doesn't comply?
In the few cases where it is not possible to install the lift fully to EN81-20 there is the potential option to have the design approved under the Essential Health and Safety Requirements (EHSRs) of the Lift Regulations for those parts of the lift deviating from the standard, ensuring compliance through a Design Examination certificate from a Notified Body although as the latest standards have been around for a while, most lifts need to comply from the outset.
5. What about existing lifts?
The new standard affected lifts installed after the 31st of August 2017. However, these standards describe the best practice, with the benefit of improved safety. If you are considering a lift refurbishment or lift modernisation your local Stannah service branch will be able to advise on the latest technology and regulations to help update your lift.
Summary
As a reputable lift service provider, Stannah can not only provide you with the help and support you need to allow to meet these standards most quickly and easily possible. All our passenger lifts are fully compliant with the latest EN81-20 and EN81-50 lift standards and we are happy to advise on lift standards.
Lasted updated: June 2021
With over 50,000 installations across the UK and nearly 100,000 units in our service portfolio, we offer a wide range of lift solutions and services to move people and goods. Take a look at our product range or simply get in touch.
Contact Us