Cage Lifts vs Goods Lifts - The Choices & Differences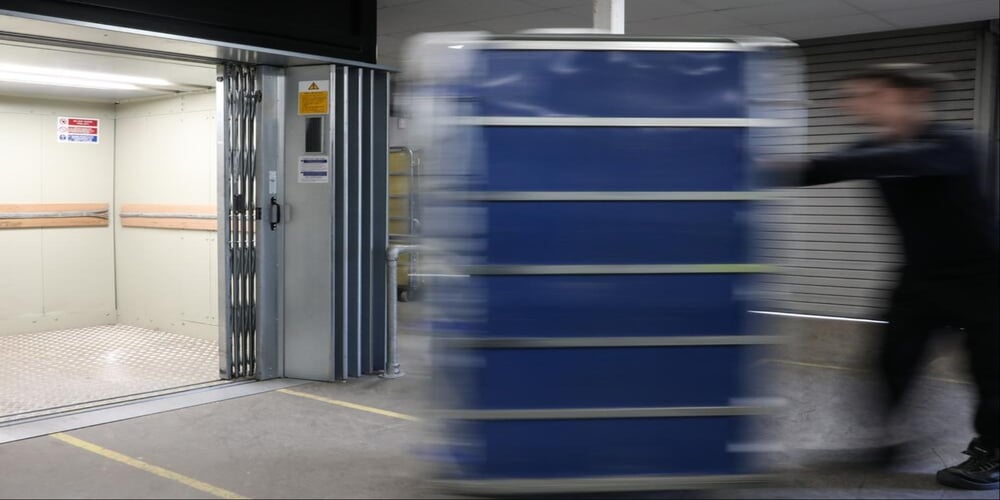 You'd be forgiven for thinking all goods lifts are the same, but they're not… Whilst both help material movement and reduce manual handling risks there are some key differences...
Below we'll explain the difference between a cage lift and a goods lift in a structure. Whilst both help material movement and reduce manual handling risks there are some key differences. The cheapest isn't always the best, so let's find out...
What are these lifts?
A cage lift is typically a basic platform within an open-topped mesh enclosure that transports goods to secondary areas within a building such as stores, warehouses and workshops. A goods lift has a conventional lift car (meaning sides and a roof in addition to the platform) with a car gate (to protect the load) inside a fully enclosed structure.

Both lifts are typically used to move stock in cages, trolleys or on pallets. Goods lifts can also be supplied as goods attendant lifts, carrying up to 2 x trained attendants with the load.
An ideal solution if stairs are located elsewhere.

As both of these lifts are designed, as standard, not to carry people, there are no controls on the platform or in the car unlike a passenger carrying lift. Typically, the controls are at landings with call and send buttons.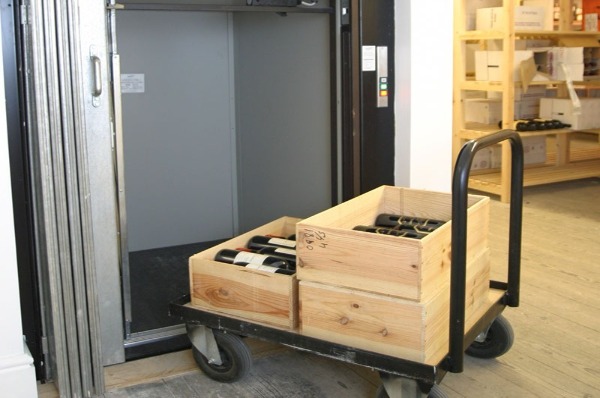 What are the key differences between the two?


Technical Features

Cage Lifts

Goods Lifts

Load

Up to 1000kg

Up to 3000kg

Travel

Up to 6.5m

Up to 15m

Operation

Constant pressure control buttons

Full automatic call & send

Application

Goods only

Goods only
Goods attendant options, carrying up to 2 persons

Structure

Self-supporting
Open topped enclosure

Structure supported frame
Fully enclosed

Configurations

Single on same side or through-car

Up to two entrances on each floor; single or through-car

Safety

The Machinery Directive 2006/42/EC

Essential Safety Requirements (ESRs) of the Supply of Machinery (Safety) Regulations 2008 (2008 No. 1597)

Fire-rated as standard and also additional safety features if carry attendants such as interior controls and communication systems.

The differences in a little more detail…
Technical Characteristics
The majority of these lifts offer a flexible number of hourly working movements, however the starts per hour for cage lifts is usually more limited than a goods lift. This is a key consideration as you need to ensure your chosen workhorse is able to move at the pace you want - choose an under specified lift and you could face more breakdowns and repair bills. Another key difference is the lifting height, with cage lifts typically restricted to serving only 2 or 3 floors with limited travel capabilities.

Goods lifts are equipped with fully automatic call and send controls at each landing entrance. Cage lifts come with constant pressure control buttons (press and hold) meaning they take longer to move goods around (or you can't get on with other jobs whilst sending the load).

When it comes to specifications, goods lifts come with a flexible design which can accommodate your low pit or headroom requirements. Their structure-supported frame makes the fitting fast and easy. On the other hand, the cage lift requires no pit just a small ramp, and they are freestanding/floor-mounted assemblies.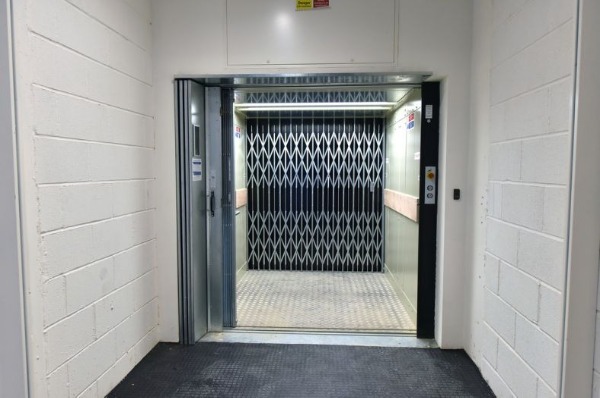 Standards and regulations
Both types of lifts comply with European and British legislation and are certified to The Machinery Directive 2006/42/EC. Both ranges are equipped with all the necessary safety features to ensure safe operation at all times. One great advantage of the goods lift over the mesh framed cage lift is that they come with fire-certified landing entrances - meaning only they can be used where fire separation between floors is required.
Summary
Both goods and cage lifts can be fitted almost anywhere in a building, moving safely and efficiently all kinds of stock in retail facilities, factories, warehouses, leisure venues and offices, in fact any back of house working environment..
However, if you are looking for a more robust lift that is fire rated, stands the test of time and ensures optimum safety and ease of use then a goods lift is the way to go.
When it comes to goods and service lifts and heavy-duty lifts, you know you can rely on Stannah. With over 150 years, supplying, installing and servicing a range of high-quality lifts we can help.
---
With over 50,000 installations across the UK and nearly 100,000 units in our service portfolio, we offer a wide range of lift solutions and services to move people and goods. Take a look at our product range or simply get in touch.
Contact Us