A Handy List of Escalator & Moving Walkway Standards (updated 2019)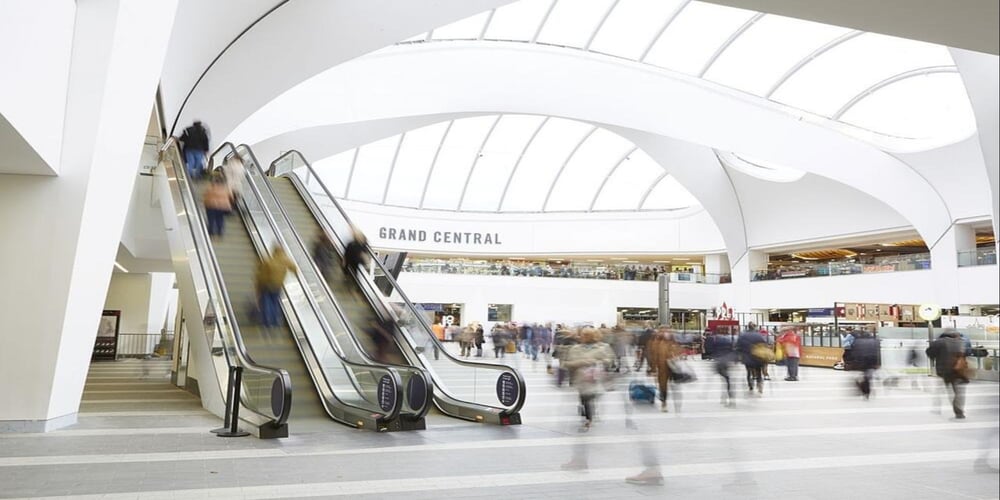 Unsure of what codes of practice, standards and regulations escalators and moving walkways fall under? Not to worry, here's a handy list...
Escalators and moving walkways
are used by millions of people every day. Their safety is crucial and the regulations, standards and guidelines they fall under exist to ensure they continue to be safe modes of transport and also to ensure the safety of engineers maintaining the equipment.
Machinery Regulations & Directives
The Supply of Machinery (Safety) Regulations 2008 covers all machines (from lawn mowers to escalators). Underneath this falls the Machinery Directive 2006/42/EC which provides the harmonisation of the essential health and safety requirements for machinery, through a combination of mandatory health and safety requirements and voluntary harmonised standards. The Directive applies to new products put into the market for the first time and requires the manufacturer to take responsibility for its design and manufacture. The Directive requires that before putting an escalator into service it should have undergone certain procedures including final inspection and test.
Escalator and moving walkway standards
Codes of practice and standards for escalators and moving walkways are British Standards that either take the form of guidance and recommendations when making selection, installing/working on escalators or moving walkways, or the technical requirements to comply with standards.
The main ones are:
BS 7801:2011- This code of practice provides rules for the safe working.
BS 8300:2018 - Part 1 and 2 - This revised code of practice aims to give the information needed to create an inclusive environment from the outset of a project. Part 1 primarily covers access in and around the external environment and the approaches to buildings. Part 2 provides guidance on access within buildings, including the facilities that should be provided inside buildings. Both parts of BS 8300 supersede the 2009 version of this standard, which has been withdrawn.
BS EN115 - Part 1 and 2 - A two-part European standard that lays out the safety rules for escalators and moving walkways:
BS EN115-1: 2017 (Newly introduced - as of September 2017) -

Part 1 defines the safety requirements in order to safeguard people and objects against risks of accidents during installation, operation, maintenance and inspection work.

BS EN115-2:2010 - Part 2 covers rules for the improvement of safety of existing escalators and moving walks. Part 2 is key for owners who have existing machines and are considering escalator or moving walk refurbishment or modernisation.
BS EN5656 - Part 1, 2 & 3 - A revised British standard which lays out safety rules for the construction and installation of escalators and passenger conveyors with specification and pro formas for test and examination of new installations.
BS 5656-1:2013 - Part 1 covers the examination and testing of new escalators before they are put into service and should be used in conjunction with BS EN 115-1:2008+A1:2010.
BS 5656-2:2004 - Part 2 is the code of practice for selection, installation and location of new escalators and moving walkways.
BS 5656-3:2014 - Part 3 covers the examination and testing (used to determine compliance) for new moving walks

and should be used in conjunction with BS EN 115-1:2008+A1:2010.
BS EN 13015:2001+A1:2008 - This European standard covers maintenance for lifts and escalators and incorporates amendment 1 2008, Rules for maintenance instructions. This standard specifies the elements necessary for instructions and maintenance for new installed passenger lifts, goods passenger lifts, accessible goods only lifts, service lifts, escalators and passenger conveyors.
ISO/DIS 25745-1 - This international standard is in response to the rapid increase in the consumption of energy on a worldwide basis. The standard provides a uniform method of measuring energy consumption of all lift products.
BS EN ISO 14798:2013 - This standard establishes general principles and specific procedures for risk assessment and reduction methodology, it provides a process for making decisions relevant to the safety of lifts from design through to servicing. It also helps in the development of generic procedures for the use, operation, testing, servicing and compliance at all stages.
Our escalators and moving walkways can comply with all the above standards and are designed and manufactured to cover all commercial, industrial and public transport applications.
New guidance from SAFed
The Health and Safety Executive asked SAFed to produce new guidance for safe operation of escalators and moving walkways. The guidelines are considered good practice and, if followed, would normally be regarded as sufficient to comply with health and safety duties. They support the legislation and replace the HSE Plant and Machinery guidance notes PM34: Safety in the use of escalators, and PM45: Escalators: periodic thorough examination, which are now withdrawn. They also consider other relevant European and national standards and documents relating to the safe use of escalators and moving walks.
How we can help...
As a reputable lift service provider, Stannah can not only provide you with the help and support you need to allow to meet these escalator standards for your project in the quickest and easiest way possible, but can also carry out and refurbishment, replacement or modernisation that an existing escalator or moving walkway may require.
With over 50,000 installations across the UK and nearly 100,000 units in our service portfolio, we offer a wide range of lift solutions and services to move people and goods. Take a look at our product range or simply get in touch.
Contact Us