Advice on lift maintenance in multi-storey housing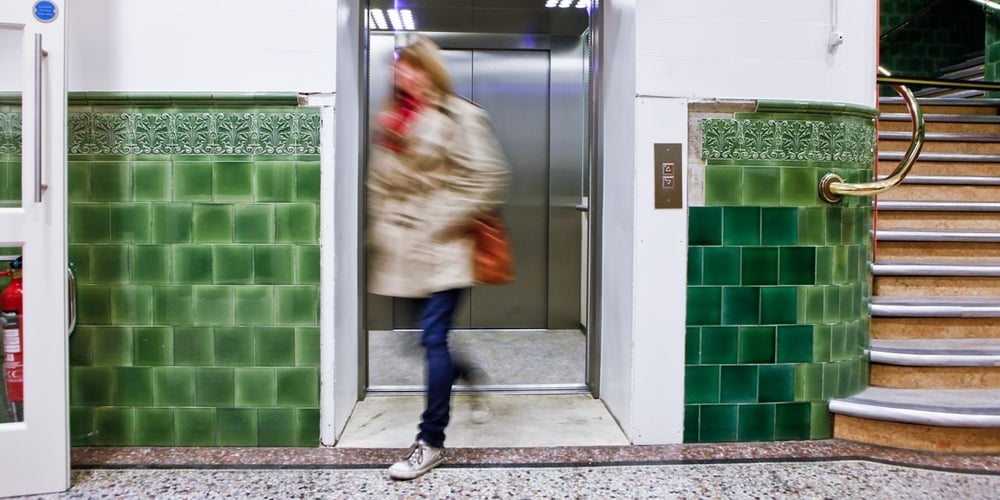 A helpful guide on the existing lifts in multi-storey housing developments and flats, from the different types of lifts, including fire-fighting lifts, to refurbishing existing lifts in tower blocks, we discuss it all in this insightful blog!
Tower block lifts – history to the modern-day
Pre-war multi-storey housing developments were generally restricted to seven storeys before the days of elevators. Wealthy people lived on the ground floor, and the poorest people lived on the top floor and so had to climb the most stairs. Social standing reversed with the advent of lifts; the penthouse was reserved for the wealthiest occupants.
High-rise housing became the order of the day post-war, and many of these developments still exist, refurbished, today. Lifts for apartments were vital in developing modern high-rise buildings, as without them, moving to high floors by staircases would have been too arduous a task.
As far back as the 1940s, the use of lifts with dedicated control features for firefighters was recognised in the UK and has been essential in high-rise buildings. We've had a British Standard for fire-fighting lifts since the 1980s.
Today, there are estimated to be more than 50,000 operational lifts in UK housing, and at least half were installed more than 25 years ago (before the lift regulations that are in force today). As such, understanding the age of the lift and what regulations it adheres to is key.
1. Keeping your lift up to standard
Many high-rise tower blocks in the UK pre-date any nationally approved standard, and so can the lifts. Therefore, it is the Lift Owner's responsibility to ensure a lift service provider is appointed to manage the lift maintenance and to help highlight any new requirements of the latest standards.
1a. Is your lift a fire-fighting lift?
As a default, all new passenger lifts are equipped to conform to British Standard EN81-73: Behaviour of lifts in the event of a fire. This standard means the lift is connected to the fire-alarm system and, in the event of a fire, will travel to the ground floor with its doors remaining open and no further calls taken. This enables all passengers of the lift to evacuate the building and firefighters to ensure there is no one trapped inside.
This is different to a fire-fighting lift. Fire-fighting lifts are designed to have additional protection, with controls that enable them to be used under the direct control of the fire and rescue service in an effort to contain and eventually quell a fire. For housing, a fire-fighting lift is required if the building has a floor more than 18 metres above or more than 10 metres below the fire-service vehicle access level.
Fire-fighting lifts feature trap doors and ladders for rescue operations. Additionally, electrical components in the shaft and on the car are protected against splashing water. Fire-fighting lifts have very specific safety requirements and the presence of fire-fighting controls within a lift does not necessarily mean that it is a fire-fighting lift. Often they are identified by this symbol on the landing: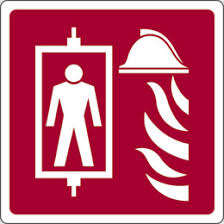 For existing tower block lifts (where there is now a requirement for a fire-fighting provision), building designers can find guidance on modernising lifts intended for use by firefighters to improve their safety in BS 8899: Improvement of fire-fighting and evacuation provisions in existing lifts.
1b. Are you planning to use the lift as part of your building evacuation plans?
Unless an evacuation lift, in general, it isn't appropriate to use lifts when there is a fire in the building. This is because there's always the danger of people being trapped in a lift that has become immobilised because of the fire, hence why the British Standard EN81-73 is in place. Again, signage around the lift will indicate this. And the same is also true for platform lifts.
In some circumstances, lifts are part of a management plan for evacuating people; in such cases, the lift installation may need to be appropriately located and protected and also contain a number of safety features that are intended to ensure that the lift remains usable for evacuation purposes during the fire.
Guidance on the design and use of evacuation lifts is given in BS EN81-76: Evacuation of disabled persons using lifts. In addition, if a fire-fighting lift has been provided, this can be utilised as a part of a management plan for evacuating disabled people.
2. Keeping your lifts up to scratch
The proper maintenance, service and repair of existing lift stock play an important role in enabling people flow in apartment blocks. Ideally, in any multi-storey housing, there should be two lifts serving all floors as a lift being out-of-action can cause disruption and upset the residents. Therefore, the disruption during servicing or awaiting the delivery of parts is minimised in having two lifts. Not to mention that all housing lifts are in constant use, so we'd always recommend regular and thorough lift inspections with 24hr service cover.
2a. Teaching an old dog new tricks!
An elevator is an engineered product with a finite lifespan, after which it can be refurbished in part or removed and replaced with newer, more efficient equipment. The image above shows the before and after of one of the three lifts at Gunnersbury Court, where the replacement of the antiquated lift system with new lifts was central to the project.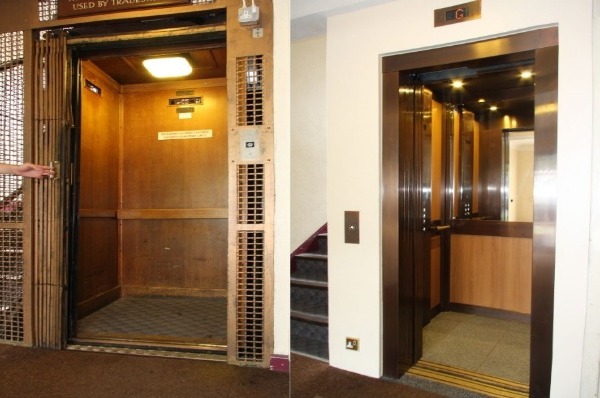 Before
After
These lift refurbishments and replacements are completed within occupied buildings, and as such, a lift company will work with property owners, tenants, builders, and lift consultants to ensure the work is carried out safely, causing minimum disruption and always providing a means of access for all building users.
2b. When the time comes for a new model
Lift equipment has a life cycle that can be extended by the refurbishment of parts and modernisation of aesthetics. Still, eventually, the most economical solution will be complete removal and replacement. Safety for lift users and our engineers is always paramount to any decision to replace existing lift equipment. The first step for a replacement lift is for a lift company to undertake a site survey, to establish whether a new lift can fit into the existing shaft and to advise on the most suitable size and specification.
Summary
Most lift providers can supply lift services to local authorities, councils and housing associations to help maintain the existing stock of passenger and goods lifts in communal access areas, stair lifts and disabled lifts for tenants.
We work in private and public housing, forming solid relationships with leading contractors for design and build tenders, working with architects and clients in traditional procurement routes, and liaising directly with Housing Associations to provide lifts based on the needs of the tenants. Why not find out more about our work within the housing sector?
With over 50,000 installations across the UK and nearly 100,000 units in our service portfolio, we offer a wide range of lift solutions and services to move people and goods. Take a look at our product range or simply get in touch.
Contact Us