Types of lift interior refurbishment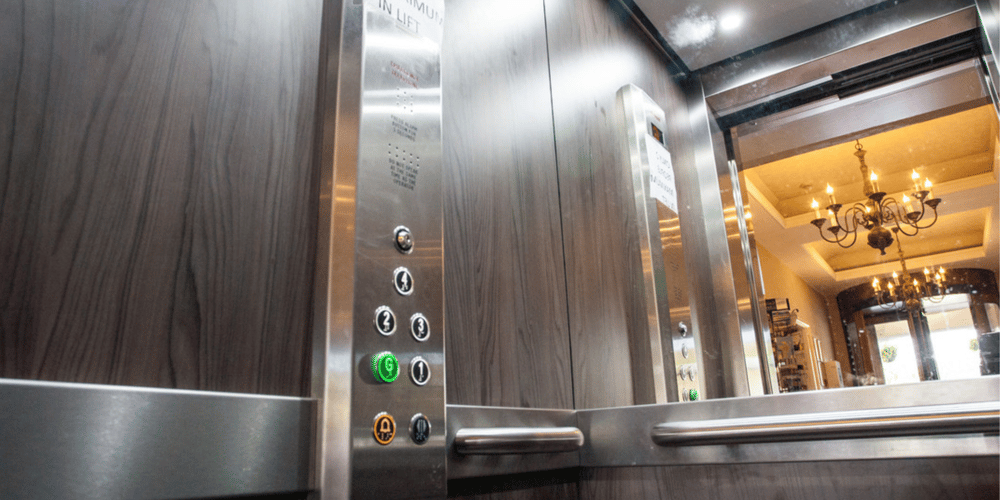 For most lift users, it's the inside of the lift car they notice, as worn-out interiors can affect the perception of the lift and the building. We talk through some of the options for lift car refurbishment in this blog.
A lift interior refurbishment is a relatively quick and cost-effective way to spruce up your lift. Either as part of a more comprehensive lift modernisation, as a whole car, or in parts. When modifying or refurbishing a lift, several options are available for improving the lift car, including:
Re-lining the existing car and retaining the existing structure & sling

Replacing the car enclosure but retaining the existing sling

New lift car & sling
Each option has a different cost and design implication but is also restricted by the existing lift design. When completing any lift car refurbishment, the aim should be to provide a specification which complies with EN81-70 (design regulation for accessibility), safety standards and other lift regulations where relevant. This is to achieve a fully compliant attractive lift car that fits within the budgets and specifications.

---

Lift car elements
Below we go into further detail on the interior elements of the lift and some of the refurbishment choices, with the image on the left showing key parts of the lift car.
1. Lighting upgrades
With the sale of halogen lightbulbs banned since 2021 and fluorescent lights (common in lifts) banned from September 2023, if nothing else, lifts with older car lighting and no sleep mode should consider a lighting upgrade. This upgrade is relatively simple and cost-effective, with the benefit to the lift owner of making long-term savings on operational costs, having greener credentials, prolonging equipment life and reducing lighting-related callouts.
2. Walls and floor finishes upgrade
Graffiti, defacement and damage can happen over time. If a public-facing lift, your company image may also be affected by worn-out lift decor. Mirrors can be placed on lift cabin walls to help wheelchair users negotiate entry and exit safely when turning space is limited. Walls can be wrapped and flooring replaced with a wide choice of finishes and materials, including replacing with stainless steel for vandal resistance and robustness for walls or new anti-slip rubber flooring.
3. Car operating panels & push buttons upgrades

Replacement control panels, lift direction arrows and buttons to give the lift a modern look, ensuring full compliance with EN81-70 and with options that include surface or flush mounted, various finishes and button options, both as standard or as anti-vandal.
For passengers with sight or hearing impairment, modern call stations have a voice annunciator indicating what floor the lift is approaching and stopping at. Other features include induction loops, braille or large, tactical push buttons to meet the latest disability standards.

4. Autodiallers & intercoms
For passengers with sight or hearing impairment, modern call stations have a voice annunciator indicating what floor the lift is approaching and stopping at. Other features include induction loops, braille or large, tactical push buttons to meet the latest standards.

EN 81-28 requires all lifts in the UK to be fitted with alarm devices to allow trapped passengers to communicate with rescue services in the event of a lift breakdown. As the PSTN switch-off approaches, lift owners must move from analogue to digital line options.
5. Other upgrades
Indicators & multimedia screens




A simple upgrade is replacing indicators with newer models for a refresh or vandal-proofing. There are also options to install a digital multimedia screen, providing a more flexible solution to communicate building information, ads and events to lift users.




Door safety edges




A panachrome door sensor is useful in high-traffic public areas for the visually impaired and the mobility-impaired, particularly in hospitals, hotels and airports. Visual and audible cues combined with 3D detection increase the time a passenger has to react to door cues, thereby reducing door damage.

Adding CCTV


Nowadays, CCTV cameras are a common feature in a lift. They offer reassurance to trapped passengers, and their deterrent effect (even if unconnected) makes them a great tool for preventing opportunist theft, violence, and vandalism. Live images can also be used to determine if a passenger is genuinely trapped, and footage recordings can be used as evidence during investigations or legal proceedings.

---
Looking for inspiration?
Interiors can focus on high-end aesthetics, luxury carpets, beautifully designed touchscreen control panels, mirrors sandblasted with branding or a TV, but they can also be about practicality.

Lifts we upgrade in hospitals value easily cleaned surfaces and impact-resistant bump rails. A care home will want easy wheelchair accessibility, user-friendly controls, seats and handrails for users to steady themselves. A back-of-house goods lift owner values robustness, so wants chequer plate floors, bump rails and strong stainless car walls. Why not take a look at our case studies for further ideas?
---
Are you thinking about a refresh?
If you desire a lift refurbishment, let Stannah come to the rescue. We're experienced in a wide range of lift refurbishments and modernisations. Covering all aspects, we can work with you to understand what you want to achieve from your lift upgrade, working within budget constraints to recommend the perfect option.
With over 50,000 installations across the UK and nearly 100,000 units in our service portfolio, we offer a wide range of lift solutions and services to move people and goods. Take a look at our product range or simply get in touch.
Contact Us