Platform Lifts - The Choices & Differences

Platform lifts come in all shapes and sizes. In this blog, we walk you through the types available and the differences between them, outlining the advantages of each and the environments in which they are most suitable.
The options can be endless (and confusing!) when it comes to vertical platform lifts, but these types of lift can be grouped into five broad categories. We've given a little more detail on the choices and differences below...
Different Types of Platform Lifts
Types
Description
Low-speed lifts
Also called low pit lifts, these are wall-mounted or structure-supported lifts that have the look and feel of a traditional passenger lift, with the same doors, cabin and operation, but travel at a reduced speed.

Cabin lifts

These lifts are built in a structure, with passengers travelling in a cabin with walls, a floor and a ceiling to give it a more enclosed feel with the lift operation being one-touch.

Enclosed platform lifts

These lifts are in a structure with a moving platform and control panel moving up inside the structure. The lift operation used here is constant pressure.

Open
platform lifts

Typically used over short lengths of travel these lifts vertically move the user(s) on a guarded platform from one level to another.

Wheelchair platform stairlifts

Also called inclined platform lifts, these lifts have a platform that follows the curve of the stairs and are only suitable for one user.
All these access lifts provide disabled access in low-rise buildings where a passenger lift is not available (or it is impractical to install one), and are based on the number of people you want to move to and the travel distance. These lifts can also be used for passengers with buggies and luggage, subject to weight limits. For further information on the building regulations and differences between platform and passenger lifts take a look at our 'Building Regulations - Do I Need A Lift' Blog.
We've covered a little more about each type of access lift below...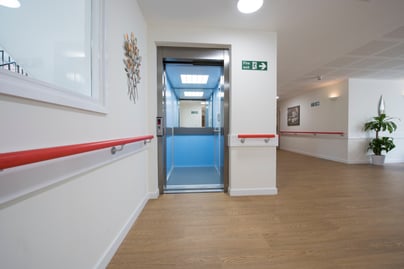 These lifts are a hybrid between a passenger and a platform lift, that fall under the Supply of Machinery (Safety) Regulations 2008 (2008 No. 1597). Benefits include the similarity to passenger lifts, with automatic buttons, automatic car and sliding doors. All these features make the lift easier to use and more appealing, with no encroachment onto landings.
Once inside, the lift user does not see the moving walls of the structure (as they do in other Machinery Directive lifts) and there is greater opportunity to make the finishes within the lift car unique. These lifts tend to be smaller than passenger lifts, carrying up to 5 persons and are therefore most suitable for low-rise, low usage applications.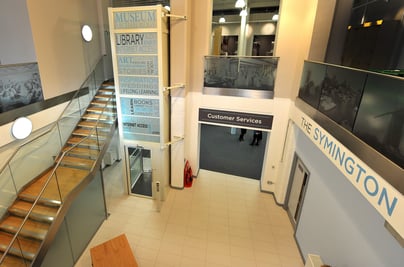 Cabin lifts include cabin walls, a ceiling, and a "virtual" or physical cabin door on sides with an entrance and exit. Built within a structure, the lift is effectively enclosed. Automatic controls come as standard, rather than constant pressure (or hold to run) controls that are found on a conventional platform lift. The automatic controls mean the lift operates in a similar way to a passenger lift and does not require the user to continuously press and hold a button while travelling.
A cabin platform lift is designed to provide vertical movement between floors in a low rise building (typically up to five floors).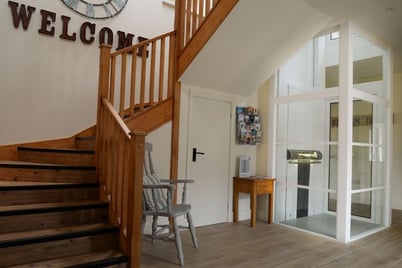 An enclosed platform lift is a platform that moves within an enclosure, operated by continuous pressure push buttons. As you travel in the lift you see the inside of the structure as the platform goes up or down.
These lifts typically serve up to two or three floors.
While some conventional platform lifts are marketed as capable of serving up to six floors and/or 12m or more, we would recommend no more than four floors as a platform lift travelling 12m would take 80 seconds or more to go from top to bottom, which is a long time for the user to hold the button. Especially if this person is elderly and/or easily fatigued.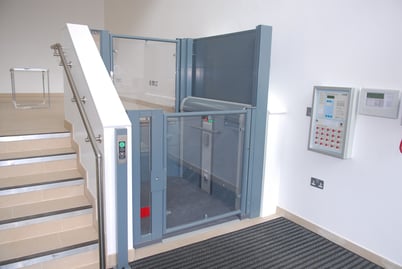 Open or non-enclosed lifting platforms (sometimes called step lifts) vertically move the user(s) on a guarded platform from one level to another.
These types of lifts are best where there is a small change in floor level or a mezzanine level and are most often used in places where it is either not possible or not practical to provide a ramp.
These lifting platforms are operated by continuous pressure push buttons.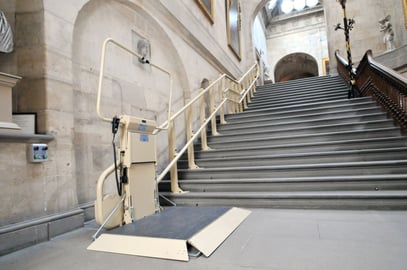 Other options include a Stairiser SR (a straight rail wheelchair stairlift), or a Stairiser CR (the curved rail equivalent).
These inclined wheelchair lifts are a platform mounted on a rail, that follows the contours of the stairs. The lift can be operated by either the wheelchair (or seated user) or a nearby attendant.
These wheelchair platform lifts are typically applied in buildings where a passenger or vertical platform lift cannot be installed.
Stannah can supply you with any of the products mentioned above, so feel free to look through our platform lift range for further information. Or alternatively, you can see our case studies or download technical information.
With over 50,000 installations across the UK and nearly 100,000 units in our service portfolio, we offer a wide range of lift solutions and services to move people and goods. Take a look at our product range or simply get in touch.
Contact Us