External lifts & BS8300-1 design guidance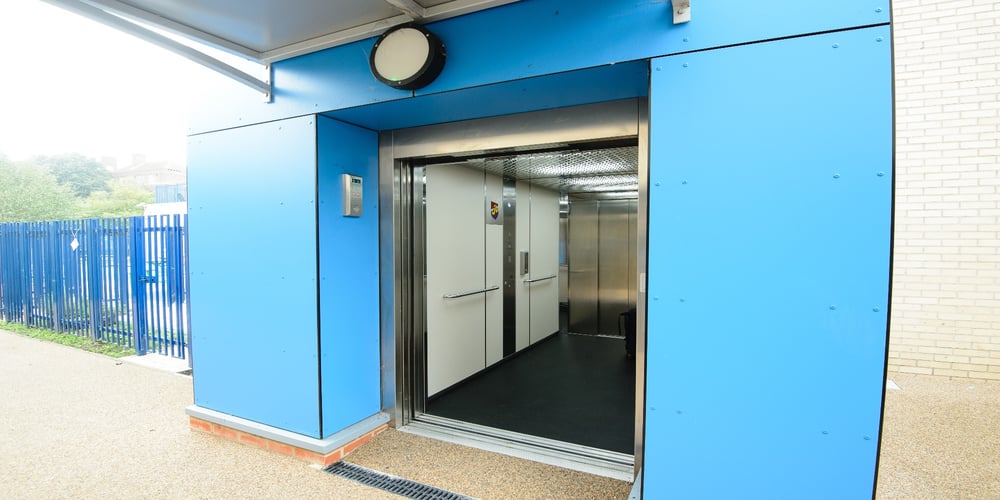 In January 2018, BS8300:2018 was introduced. Part 1 offers the first comprehensive design guidance for external public spaces. This helpful blog outlines the new standard and where outdoor lifting appliances can play their part.
1. Introduction
BS 8300-1:2018 Part 1 brings advice together to provide a definitive code of practice on inclusive and accessible design for the external built environment. As such, along with other Building Regulations, it is incredibly useful for anyone in planning, designing or managing an external environment.
Whilst not as prevalent as their indoor cousins, there are lifting appliances equipped for outdoors. These can range from escalators and lifts on railway platforms to stairlifts on a historic site, and even platform lifts outside offices.
In fact, you'd be surprised how many there are. But there are also some extra considerations when specifying external lifts to enable public access, and we've helpfully outlined them below.
More Lift Regulations & Standards
2. What does the new BS8300-1 standard do?
Used in the production of Local Development Frameworks, client's briefs and contract documents, this standard gives recommendations for the design of the external built environment, including the approaches to buildings, to accommodate users in an inclusive way.
The standard highlights guidance around key external features associated with a building or block of buildings, such as public facilities, parking provision, access routes, entrances around buildings, street design and landscaping, as well as horizontal and vertical movement (which is where a lift or escalator can play their part!).
It's worth noting that this standard refers to internal design, but its counterpart BS8300-2 gives the main recommendation. BS8300-1 does not give recommendations for the maintenance and management of the external environment (but does give a list of considerations in the Annex).
The information in the standard predominantly applies to new developments but can also be used for assessing the accessibility and usability of existing external environments to identify improvements and determine changes to heritage sites on a case-by-case basis.
3. Where are lifting appliances used outdoors?
External lifts and escalators can provide an alternative to stepped access to a building – from the conventional outdoor passenger lift to external platform lifts and outdoor wheelchair stairlifts. BS8300-1 recommends that conventional passenger lifts are preferred wherever practical.
Moving walkways can be used to shorten user journeys in lengthy horizontal areas.
For all types of outdoor lifts and lifting appliances, the standard recommends referring to BS8300-2, however, it also proposes some additional considerations around weather protection - recommending that the standards required for environmental conditions, such as temperature, humidity, sun or wind exposure, snow or corrosive atmosphere (e.g. coastal areas) are discussed as part of the product specification to ensure safe and reliable operation.
4. Specifying external lifting appliances
It's worth stating that most outdoor lifts have external entrances at all levels. There are instances where either a weather-proof shaft or structure is built adjacent to the building to accommodate an internal lift or an external lift with a mix of internal and external entrances. In these instances, Part L - Conservation of fuel and power, which controls the insulation values of buildings elements, is worth referring to.
There is an optimal temperature range for the working of any type of lift appliance which is specific to the product. This is particularly true of platform lifts that are in their own structure rather than an insulated shaft.
In general, the non-slip properties of floors of lift cars, carriers of lifting platforms and steps of escalators/moving walks should be sufficient for the levels of moisture that are to be expected in an external environment.
On top of general considerations for lifting appliances in the external environment, there are specific design considerations for each product type which we've outlined below. Although the best source of guidance is the British standard for each lifting device alongside the other building regulations, including Part M, Section 4.2 and the Equality Act.



a. Design considerations for external escalators and moving walkways

To ensure product reliability and longevity, escalators and moving walkways used outdoors (or part outdoors) must be equipped with additional weatherproofing and protection. But it's not only the equipment that's equipped for the external environment; it's also about minimising the effects of the external environment.
An outdoor escalator or travelator can be either:
Semi-outdoor is where the unit is not directly exposed, as it is covered with a roof and walls
Fully outdoor is where the unit is fully exposed
Therefore, depending on the escalator or moving walk, you often see the additional builder's work of canopies, drainage troughs and floors constructed with a fall to minimise water ingress towards entrances and exits, with ongoing maintenance on these items being key to preventing any future problems.
Typically outdoor travelators or escalators have:
Hot-dip galvanizing truss and 304 Stainless steel or above skirt, deck, cladding on the machinery
Comb/truss heaters and oil/water separators depending on environmental temperatures
Waterproof step roller and roller chain
IP54 rating or above, inverter, motor and electrical components to keep water away from all important electrics
A sump pump in the pit can be used to prevent water accumulation which is activated via a sensor. In these cases, it's important to note the machine pit size may need to be increased to accommodate the additional equipment and that the drained water will require specific and safe disposal, as it will contain oil and debris.
For outdoors and elsewhere, the escalator steps or moving walkway belt can also be upgraded with an anti-slip coating; this is particularly effective on existing escalators or moving walkways where product wear has smoothed the surface. BS EN 115 1:2017 (Annex J) gives information on the determination of the anti-slip properties of tread surfaces on steps and pallets, comb plates and floor plates on escalators and moving walks.
b. Design considerations for outdoor passenger lifts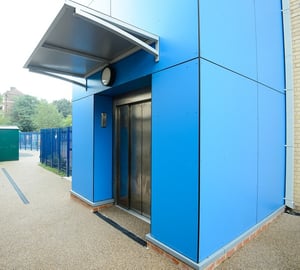 A weather-proof shaft with pit drainage must be constructed for outdoor passenger lifts. This should include drainage in front of and a canopy over each lift entrance to offer a degree of protection to landing doors (with the added benefit of keeping people dry when waiting for the lift!). All external entrances should have a slope away, which will help to prevent water from getting in.
We'd always recommend specifying the landing doors in a 316-grade stainless steel finish for additional weather protection and either a chequer plate or rubber floor in the lift car to prevent slippage. IP54-rated landing controls, control cabinet and landing indicators are primely important to protect water from getting into key electrical lift functions.
c. Design considerations for outdoor platform lifts & wheelchair platform stairlifts
There is a multitude of slow-speed lift types available on the market; the suitability of each depends on the site requirements and application.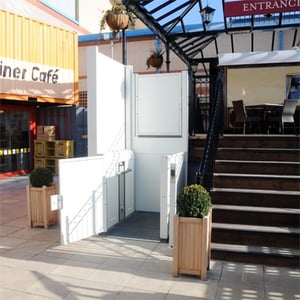 i. Low-speed machinery directive lifts & cabin lifts
The recommendations for these types of lifts are very similar to the design consideration for outdoor passenger lifts; as they are a specialised product, it requires discussion with your chosen lift provider about the options available.
ii. Enclosed platform lifts & open platform lifts
For more traditional access lifts, it's important to ensure that the lift has additional protection to enable it to be installed in an external environment.
Like passenger lifts, all landing controls, car controls, and door openers should be IP54-rated. Adequate drainage should be incorporated into any platform lift requiring a pit to ensure there is no standing water, or alternatively, there are options to use a ramp where water can run off instead.
Some access lifts require a machinery room cabinet (typically hydraulic lifts), and depending on the environment; an optional pump heater may also need to be included to keep the lift working within its optimal temperature parameters.
Finally, adequate ventilation is important for fully enclosed lifts to prevent the enclosure from becoming too uncomfortable in warmer weather or in the unfortunate event of a trap-in.
iii. Wheelchair platform stairlifts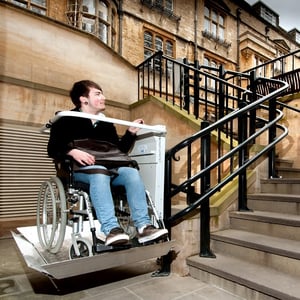 The last type of slow-speed lift is a wheelchair stairlift that enables a disabled user to travel along the staircase. Like their internal counterparts, these outdoor platform stairlifts attach to the side of external stairs, either by an adjacent wall or stair floor.
As elsewhere, it's important to ensure that the lift has protection to enable it to be installed in an external environment.
A key point to note is that a structural engineer must confirm that the stairs (or any adjacent wall) will support the loads and forces put upon them by the stairlift. Equally, whether the material used for the wall or staircase is suitable for drilling into, e.g. marble, requires a specialist driller.
---
5. Summary
Hopefully, this has given you a quick insight into the extra considerations required for outdoor lifting appliances. It's also worth pointing out that the choice of lift type and specification will then define the further standards that lift falls under - for a full list of standards, take a look at our glossaries:
Here at Stannah, we offer a broad range of lift products to enable easy vertical and horizontal circulation, working with you to solve your access problem and comply with building regulations/guidance.
Looking to incorporate an outdoor lifting appliance into your project? To enable easy specification, why not visit our technical area, where there's a wealth of product information, specifications, CAD blocks and more.
With over 50,000 installations across the UK and nearly 100,000 units in our service portfolio, we offer a wide range of lift solutions and services to move people and goods. Take a look at our product range or simply get in touch.
Contact Us